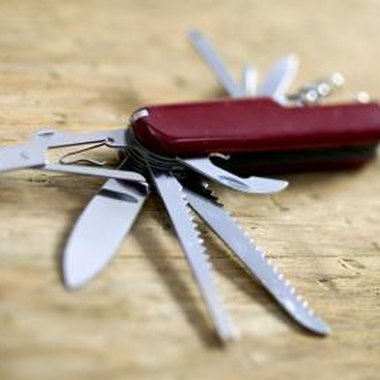 Whittling can provide hours of enjoyment for children. Whittling is the act of removing small pieces of wood or shavings from a large piece of wood using a small, sharp implement such as a pocket knife. Some whittlers use more specialized knives for their projects. When acquiring wood for a whittling project, balsa, basswood, white or yellow cedar, apple, cherry, birch, pine, cottonwood, redwood, poplar or walnut are all excellent options.
Knives
Whether using a wooden knife to play in the mud or as a tool to cut soft objects, like breads, a child can find great satisfaction in this whittling project. Locate a branch or piece of wood that is 10 to 12 inches long and 2.5 to 3 inches in diameter and whittle away with a sharp pocket knife. A piece of wood this size can become a knife with a 4- to 6-inch blade and a 3- to 4-inch handle.
Wands
Wands are an easy first whittling project, and the final product will be particularly enjoyed by imaginative children or Harry Potter fans. Find a stick about 12 inches long, perhaps half an inch in diameter. Whittle away the top to form a point and whittle along the length of the stick to cause the wand to taper toward the point. Whittle special designs around the thicker handle and perhaps carve "magical runes" along the length of the wand itself. There is no wrong way for a child to make her own wand--let her imagination go wild.
Animals
Animals are a fun whittling project for the slightly more experienced whittler. Penguins or owls are a good start--the child shapes a head on a large oval object and then whittles details like wings, feathers and eyes. As the child progresses in skill, any animal can be discovered within a piece of wood--dogs, cats, horses, armadillos or kangaroos. Animals the child has whittled himself make a particularly nice gift for loved ones.
Soap
If you have a child younger than 10 who is interested in whittling, you may want to start him on whittling soap. Soap is easier to work with than wood, allowing for smaller, less dexterous or strong hands to create a fun object. Additionally, though a pocket knife can be used to whittle soap, a plastic knife can be used. Begin with a large, flat bar of soap. Whittle the soap away to make shapes or whittle the face of the soap to make special designs or pictures. Whittled soap can be used like regular soap and makes a unique gift.
Photo Credits
Jupiterimages/liquidlibrary/Getty Images