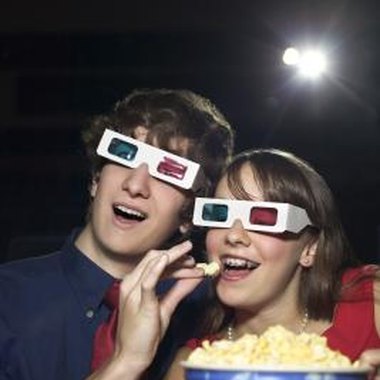 "The Polar Express" is an animated Christmas movie based on the Chris Van Allsburg novel of the same name. Released in 2004, it was an ambitious project from director Robert Zemeckis and actor/producer Tom Hanks. The simple story of a boy who longs to believe in Santa Claus -- and takes a train ride up to the North Pole -- comes to life with 21st Century filmmaking technology that turns human actors into three-dimensional animation.
Technology
CGI animation giants such as Pixar and even George Lucas' Industrial Light & Magic had a history of shying away from replicating human likenesses through computer technology. These images simply came off as "flat" in the medium. "The Polar Express" was the first to use a "performance motion-capture" technology known as Imagemotion (TM). Lead actor Tom Hanks had nearly 200 plastic devices, or "jewels," attached to his body to guide 70 cameras to record his every move during the scenes. Animators then fed this information into the computer to replicate the intricacies of the movement to produce a more lifelike image.
Visionary Director
Robert Zemeckis had a proven history for pushing the envelope, marrying his vision with emerging technology. He directed the 1988 live-action/animated classic "Who Framed Roger Rabbit." He also used actual footage to integrate an ordinary man with extraordinary experiences in the visionary "Forrest Gump," which also starred Tom Hanks as the award-winning lead actor. He wasn't sold on the new motion-capture idea at first, but after testing the technology to his satisfaction, Zemeckis admitted without it evolving to such an extent he likely might have passed on the project altogether.
Marketing Strategy
Release of "The Polar Express" was up against Pixar's "The Incredibles," which meant this new technology and how it would be perceived risked being overshadowed by a studio giant with a proven track record. "The Polar Express" and its distributor Warner Bros. upped the ante by releasing a 3-D IMAX version of the film simultaneously along with the 2-D version filmed in 35 mm, establishing itself as the first film to do so. Interestingly, the production did not use an IMAX camera to film "The Polar Express." Instead, it used 3-D DMR film, or IMAX Digital Media Remastering of the 35 mm film.
A Labor of Love
Tom Hanks portrayed six roles in "The Polar Express," Hero Boy, Father, Conductor, Hobo, Scrooge and Santa Claus. He was the one who brought the project to Zemeckis because he had been a long-time fan of the book, which had become a perennial favorite for his children. As if six roles weren't enough hats to wear for the project, Hanks also produced the film. Hanks also was able to work with his "The Green Mile" co-star Michael Jeter one last time, as this was Jeter's last feature film role before his death in 2003.
Resources
Photo Credits
Thinkstock/Comstock/Getty Images