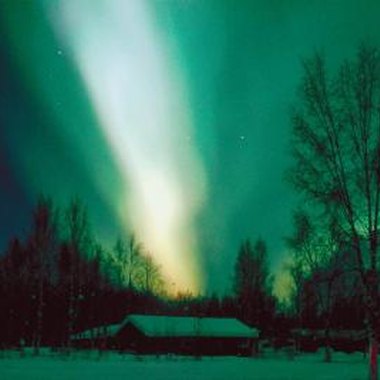 The state of Alaska, also known as "the last frontier" is home to eclectic communities that hold tight to their unique cultures and traditions. The site of multiple celebrations throughout the year, Alaska is filled with an array of unusual festivals in December. Each one reflects upon a way of life that is uniquely Alaskan.
Winter Solfest
The city of Girwood celebrates the winter solstice with its annual Winter Solfest, which is traditionally held in mid-December. The event is held in celebration of the shortest day of the year. It features events such as a community bonfire, Eskimo crafts and an array of local music artists. Winter Solfest culminates in participants celebrating the natural powers of the moon by singing songs and carrying lighted torches throughout the town.
New Year's Fire and Ice Extravaganza
Held each New Year's Eve in the streets of downtown Anchorage, the New Year's Fire and Ice Extravaganza is a one-of-a-kind event in the state. Held in celebration of the New Year, the extravaganza features aerial performers, ice dancers, ice-carving competitions and performances by the Anchortown Circus. The event culminates in a city-wide parade that includes stilt walkers, live fire performances and a fireworks display.
Qitik Games
Each December, the small village of Barrow hosts the annual Qitik games festival, which consists of traditional Eskimo games and celebratory events. Local townsmen compete for the title of strongest man through feats of skill, a series of physical challenges and cold weather events. The festival lasts throughout December and culminates in a New Year's Eve fireworks display at the town center's whalebone arch.
Julebukking Festival
Held annually in the Southeastern Alaskan village of Petersburg, the Julebukking festival traditionally occurs on Christmas Eve. The festival, derived from a Norwegian Christmas tradition, involves local merchants staying open late. What makes the festival unusual, however, is that instead of customers paying for food and drink, restaurants, pubs and eateries offer local customers food and drinks free of charge as thanks and recognition for their patronage throughout the year.
Sing-It-Yourself-Messiah
Each December, the Fairbanks Choral Society and the Fairbanks Department of Parks and Recreation host the annual Sing-It-Yourself-Messiah Celebration. The event is designed to welcome new singers into the community. Each singer is offered the opportunity to display his or her talents to the community during the festival, which is traditionally held in mid-December at the First Presbyterian Church in downtown Fairbanks.
Photo Credits
Jupiterimages/Photos.com/Getty Images