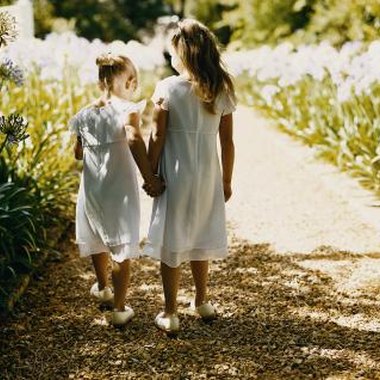 Between the foliage, the open sky and the green grass, a garden reception can look like a fairy tale. Although guests will be instantly impressed by the beauty of the reception, they'll quickly become miserable if they're too hot or are attacked by bugs. Set up plenty of shaded areas and put out buckets of insect spray so everyone can focus on the scenery and, of course, on you.
Flowers
No garden party is complete without flowers. Ideally, your garden is already filled with blooming bushes, but adding even more flowers will make the reception feel lush. Plant colorful flowers in large buckets and pots and use them to line the pathway into the reception. Paint small pots yourself to make them match your color scheme and use them as table centerpieces. Plant some flowers in hanging pots and hang them from trees and stands throughout the garden.
Fruit and Vegetables
Fruits and vegetables aren't only for the buffet table. Not only does fresh produce make affordable decoration, but you can find fruits and vegetables to match nearly any color palette. Fill wooden crates, metal pails or wicker baskets with shiny apples, berries or plump tomatoes and use them as centerpieces. Buy this produce fresh from a local farmer and make it double as reception favors. Set out paper bags printed with your names next to the crates and invite guests to fill a bag at the end of the party.
Trellises
Trellises can be used to hang decorations or block off less attractive parts of the garden. These structures generally look like small walls that are made from interwoven pieces of metal or wood. Buy several trellises from a garden or home improvement store and lean them against fences or plant them into the ground. Clip place cards to trellises so guests can find their table assignments or wrap flower garlands around the structures. To turn a trellis into an unusual guest book, wrap wire around the entire trellis. Guests can write messages onto small cards and clip them to the wire.
Lights
Even during a daytime reception, twinkling lights will make the garden appear to be filled with fairies. If the reception is going to run into the evening, lights are an absolute must. Wrap twinkle lights around tree trunks and drape them over bushes, then hang paper lanterns from tree branches or arrange them on tables. Pick up some wire lanterns from a garden or antique store and tuck pillar candles inside. These lights will make the garden feel like a romantic paradise.
Photo Credits
Digital Vision./Digital Vision/Getty Images