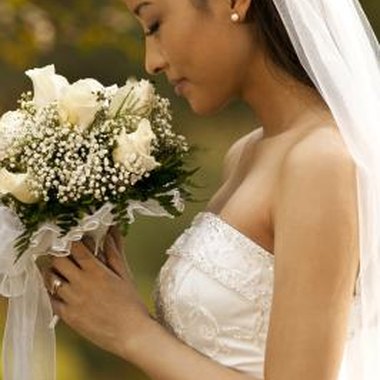 Weddings are unforgettable ceremonies. Music at weddings can vary from simple to grand. Even keeping it simple with a cello and violin still allows you various choices. You can find pieces composed strictly for each of these instruments in duet. There are also arrangements of music written for other instruments or orchestras simplified for the cello and violin duet.
Wedding Marches
Two of the most famous pieces of classical music used in wedding ceremonies are Wagner's "Bridal Chorus" from the 1850 opera "Lohengrin," and Mendelssohn's Wedding March written as incidental music to accompany a production of Shakespeare's "Midsummer Night's Dream." Wagner's "Bridal Chorus" is popularly known as "Here Comes the Bride." Both of these are known for being played on pipe organs. Each of these famous pieces is available in arrangements for cello and violin. Check with a local or online sheet music retailers for version. You may also find the arrangement through a public library.
Beethoven
Ludwig van Beethoven wrote grand symphonies and unforgettable orchestral pieces. He also composed several sonatas for violins and cellos. To decide if these pieces are appropriate for your wedding plan, you can find recordings of them available for sale, on loan from a public library, or sample them from online sources. For violin you can choose from Opus 12: Three Violin Sonatas; Opus 23, Violin Sonata 4; Opus 24, Violin Sonata 5; Opus 30, Three Violin Sonatas; Opus 47, Violin Sonata 9; Opus 98, Violin Sonata 10. For Cello, Beethoven wrote five cello sonatas. You can choose from Opus 5; Two Cello Sonatas; Opus 69, Cello Sonata 3; or Opus 2, Cello Sonata 5.
The Baroque
Baroque music is frequently used in ceremonies like weddings. Many of the instruments used in classical music were new in the Baroque period and composers were eager to perfect their sound. Famous composers of the era include Handel, Vivaldi and Bach. Some examples of Baroque music you can choose for a wedding are Vivaldi's "Sonatas for Cello," Handel's "Where'er You Walk" or "Arrival of the Queen of Sheba." Perennial favorites for weddings are Bachs's "Air," "Sheep May Safely Graze," "Wachet Auf," and "Jesu, Joy of Man's Desiring."
The Basics
Many pieces of music play in weddings regularly because they set the mood perfectly. The "Ave Maria" is used to pay homage to motherhood. Albioni's Adagio plays over contemplative or reflective parts of a ceremony. For many of the wedding standard musical pieces there are numerous arrangements available, even if the original was written for voice, or orchestra or brass. You can find arrangements of these standard wedding pieces for cello and violin. Gounod's Ave Maria, Schubert's Ave Maria, Albinoni's Adagio, Tartini's Cantabile; Schumann's Traumerei. In addition to the classics, you can have many modern wedding favorites arranged for cello and violin. Simply have the violin play the melody or vocal line, and have the cello play the bass lines.
References
Classical Music Encyclopedia; Stanley Sadie; 2003
Photo Credits
Comstock Images/Comstock/Getty Images