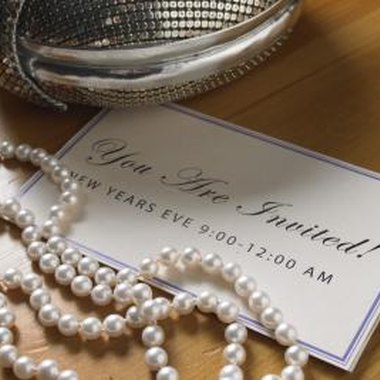 Even for relatively low key weddings, an enormous amount of planning and preparation is still required and announcements and reception invitations may seem like just two small pieces to a large puzzle. However, reception invitations provide much needed information for guests and announcements are appreciated by those who were not a part of your wedding but are still in your thoughts.
Differences Between Announcements and Invitations
While both types of letters are useful, they serve different purposes. A wedding announcement is used to inform those who were not invited to the wedding that you got hitched, as well as whether or not you changed your last name -- friends and acquaintances, co-workers and colleagues and distant relatives could all receive announcements. Reception invitations specifically invite people to the reception after your wedding ceremony.
When to Send
Traditionally, wedding announcements are sent the morning of your wedding. However, if you think you might be a little busy that day with the whole wedding celebration going on, you can put them in the post the night before. Just don't mail them too early, as they are intended to announce the event after it has happened. For reception invitations, send these to your reception-only guests about five weeks before the wedding and includes the essential information, potentially directions on how to get to the location and an RSVP card and return envelope. You can mail them along with the wedding invitations for those who are invited to both and separately for guests only invited to the reception.
Where to Buy
Many local and corporate print and copy shops are capable of printing the announcements and invitations you need, often working from a set of templates for each type of card. You can incorporate the colors of your wedding into these cards and all the information your recipients will need to know. As a way to plan for a printing mishap or other wedding preparation madness, consider ordering your cards a month before you need to send them.
Printing Your Own
If you or your spouse is the "do-it-yourself" type, you can create and print your own cards at home to send out using an illustration program, a photo program or a template in your word processor program, allowing for more customization. Wedding announcements can be printed as postcards or cards with envelopes, while reception invitations are better suited for cards so you can also include the return envelope and RSVP card. Just don't put it off or else you will rush the project and it will not turn out like you hoped. You should also keep in mind the restrictions the U.S. Postal Service has on envelope and postcard sizes, which is highlighted in detail in the Resource section.
Photo Credits
Dick Luria/Photodisc/Getty Images