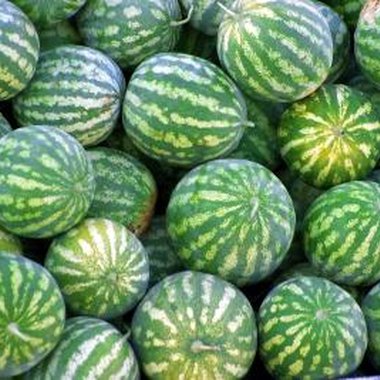 Nothing cools you off on a hot summer day better than a fresh slice of juicy watermelon. The watermelon is such a beloved fruit that some cities and counties have dedicated entire festivals to it. While there are only a couple of these festivals to choose from in the state of Oregon, both assure good family fun and all the fresh watermelon you can eat!
Irrigon Watermelon Festival
The Irrigon Watermelon Festival is held on the last Saturday in July in the small town of Irrigon, located in northeast Oregon on the Columbia River. The festival boasts games and prizes, musical entertainment and homemade pies. There are several raffles held all day long for prizes, as well as a parade, craft booths and children's activities. The highlight of the evening entertainment includes a late-night street dance and light show. Traditionally, a two-day adult softball tournament rounds out the Irrigon Watermelon Festival weekend. And, of course, there is never a shortage of fresh watermelon to enjoy.
Winston-Dillard Melon Festival
Winston is a small city in the southwest corner of Oregon. The Winston-Dillard Melon Festival is held yearly in early to mid-September at Riverbend Park. The Melon Festival has been celebrated in Winston since 1968. The three-day festival boasts a parade, food booths, chidren's games and activities, contests and a car show. Many of the food booths serve watermelon-centric dishes for guests. The festival has its own Facebook page to keep festival-goers up to date on activities, entertainment and other important festival information.
National Watermelon Month
The U.S. Senate passed a resolution in 2008 declaring July National Watermelon Month in the United States. Many watermelon crops are ready to be harvested in July, especially in warm states such as Georgia and Texas. The National Watermelon Association uses the month of July to raise awareness of the health benefits of watermelon. The association also runs several promotions during July, including a national display contest.
Fun Watermelon Facts
According to the National Watermelon Promotion Board, the watermelon fruit is made up of slightly over 92 percent water. Early explorers used watermelons as canteens, hollowing out the sweet pink fruit and filling the rind with fresh drinking water. The first documented watermelon harvest occurred over 5,000 years ago in Egypt. Watermelons were sometimes placed in the tombs of kings to feed them in the afterlife. Now, between 200 and 300 different varieties of watermelon are grown in the U.S. and Mexico, with about 50 of those varieties comprising the most popular watermelons eaten in North America.
Photo Credits
Photos.com/Photos.com/Getty Images