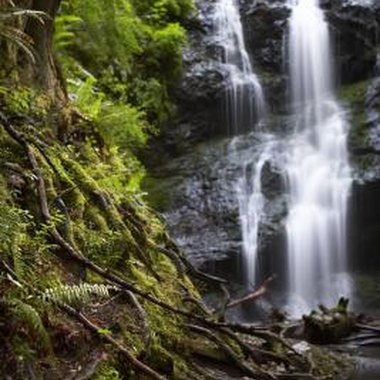 Located in Fulton County in Northern Georgia is the City of Palmetto. While it is home to only one waterfall, in the greater Atlanta area (which includes Palmetto to the west), nature lovers can find several different types of waterfalls to delight in as well as other activities such as hiking in camping. The northern area of Georgia features mountainous and luscious terrain and offers urban dwellers living in Atlanta an escape into nature for a day or weekend trip.
Cochran Mill Park
Located in Palmetto itself is Cochran Mill Park. Simplistic in its design, the park includes a waterfall in Old Mill Pond. The waterfall and natural pond can be found on the eastern boundary of the park. Future improvements may be made to the area, but for now, the waterfall offers a relaxing sight for swimmers in the pond. Cochran Mill Park also offers hiking trails, camping, fantasy games (complete with costumes) and orienteering events.
Helton Creek Falls
Helton Creek Falls are located in the Chattahoochee National Forest (home to the famous Blue Ridge Mountains). The two waterfalls at Helton Creek Falls appear along a short hiking trail that is aplenty with foliage and plants. A staircase allows visitors to watch the waterfall from the base of the Lower Falls or to watch from the Upper Falls, which offer a narrower view. The two falls combine to produce a 30 foot drop, down which the water cascades. So powerful are these falls that they can usually be heard from the roadside.
Keown Falls
Experienced hikers looking to embark on a strenuous hike while passing several waterfalls will enjoy Keown Falls. The 1.8 trail in northwest Georgia is not only one of the best places to hike in the area. but also overlooks the Johns Mountains. The waterfalls at Keown Falls are not as dramatic as those found at Cochran Mills Park or Helton Creek Falls, but despite being smaller in size, they can be found more frequently along the way to the peak of the trail.
Anna Ruby Falls
For waterfalls enthusiasts undeterred by a lengthier car drive, the two hour drive from Atlanta is worth it to see Anna Ruby Falls. The falls mark the intersection of two creeks which begin on a mountain to produce loud and forceful waterfalls. York Creek drops 50 feet while Curtis Creek falls an impressive 153 feet, and both waterfalls can be viewed from the base. Anna Ruby Falls is approximately a half mile from the parking lot of Chattahoochee National Forest and takes approximately 30 minutes to access.
Resources
Photo Credits
Thomas Northcut/Stockbyte/Getty Images