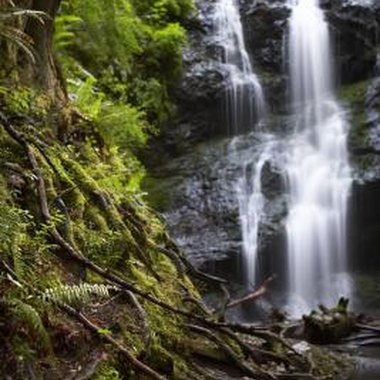 The Great Smoky Mountains National Park in Tennessee has over 850 miles of hiking trails. Visitors can find breathtaking waterfalls throughout the Smoky Mountains on almost every river and stream in the vast park. The environment is ideal for waterfalls, with its substantial elevation and 85 inches of precipitation each year.
Hen Wallow Falls
Visitors to the Hen Wallow Falls hike 4.5 miles round-trip through poplar, hemlock and rhododendron forests. There is a steep and narrow side trail that leads to the bottom of the 45-foot waterfall. Hen Wallow Creek is only 2 feet in width at the top of the drop, spreading out to a width of 20 feet at the base.
Abrams Falls
The Abrams Falls have an impressive volume of water rushing 20 feet down into a long and deep pool at its base. The trail to the waterfall passes through pine/oak forest, and the round-trip is 5 miles. The waterfall and creek were named after Cherokee Chief Abram, once the leader of a small village several miles downstream. Swimming at the base of the waterfall is very dangerous, due to the undertow and strong currents.
Laurel Falls
Laurel Falls can be reached without too much hiking effort -- the round-trip journey is only 2.7 miles. The trail is paved and mostly flat, and goes through a pine and oak forest with a slight incline of 200 feet. The Smoky Mountain Mall calls it the "easiest and most popular waterfall trail on the Tennessee side of the park." The 80-foot waterfall is named for mountain laurel, an evergreen shrub that blooms in May.
Ramsey Cascades
Ramsey Cascades has perhaps the most difficult waterfall trail, but it has the largest drop inside the Great Smoky Mountains National Park. The water drops 100 feet over rock outcroppings. The trail goes 4 miles each way and increases 2,000 feet in elevation to the waterfall. The National Park Service warns hikers never to climb to the very top of the Ramsey Cascades, as several people have died in this effort.
Mingo Falls
With a drop of 120 feet, Mingo Falls is one of the largest in the southern Appalachians. The hike is less than a mile for the round trip, but the National Park Service considers it to be moderate to difficult. The trail is located on the Cherokee Indian Reservation, right outside the Great Smoky Mountains National Park. No special permit is required to hike the trail leading to Mingo Falls.
Photo Credits
Thomas Northcut/Stockbyte/Getty Images