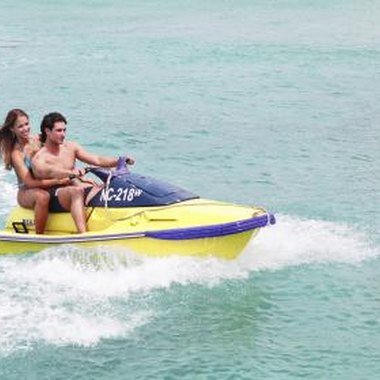 Michigan Department of Natural Resources writes all regulations regarding watercraft and Jet Skis in the state. The DNR requires each boater to obtain a license before operating on Michigan waterways. Age requirements prohibit younger boaters from obtaining licenses. Many boaters take Michigan's boater safety course even though the law doesn't require it. The DNR must register all boats and Jet Skis and requires them to have diligent maintenance.
Registration
Owners must register all watercraft, including Jet Skis, with the state of Michigan before using them on state waterways. The only exceptions to this rule are boats under 16 feet long, non-motorized canoes, kayaks or vessels properly licensed in another state. A registration form is obtainable at the secretary of state's office. The secretary of state issues watercraft registration along with a pocket-sized registration card that must be available when using the watercraft. There must be a clearly visible registration number displayed on the side of the watercraft. State law requires 3-inch high registration numbers that contrast with the watercraft's color. Manufacturers provide a hull identification number, unique to every vessel, at the rear of the boat or Jet Ski.
Who May Operate a Boat
Individuals under age 12 may only operate a boat powered by a motor with less than six horsepower. This can range up to 35 horsepower with on-board supervision by someone age 16 or older. Those under 12 may never operate a boat with more than 35 horsepower under any circumstances. Youth ages 12 to 15 may operate a boat with less than six horsepower with no restrictions. They may operate a boat above six horsepower after they pass an official safety course, or if accompanied by someone over age 16. Anyone over age 16 may operate a boat at any time on Michigan waterways.
Who May Operate a PWC
In Michigan, a personal watercraft, or PWC, includes the operation of a Jet Ski. No one under age 12 may operate a PWC under any circumstances. A boater age 12 or 13 may operate a PWC if accompanied by a parent or legal guardian and the operator and parent both hold boating safety certificates. In addition, the PWC must have a design to carry two people, and the boater's life jacket must have a lanyard safety switch attached. After obtaining a boating safety certificate, a person over age 14 can operate a PWC.
Requirements Specific to PWCs
Every person operating or riding upon a PWC must wear a U.S. Coast Guard-approved life jacket. It is illegal to tow a child under age 7 behind a PWC. It is also illegal to operate a PWC between sunset at 8 a.m. Michigan law prohibits operating a PWC within 200 feet of a Great Lakes shoreline unless traveling at a slow speed. It is also illegal to disturb wildlife or habitats in any way.
Photo Credits
Ablestock.com/AbleStock.com/Getty Images