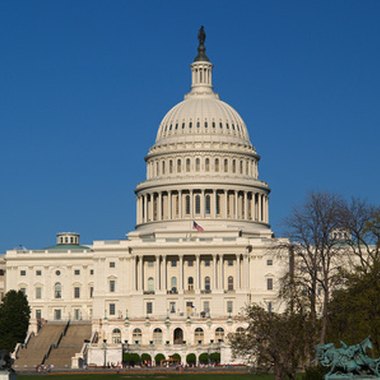 National Harbor is a 300-acre shopping and entertainment development located in Maryland, across the Potomac River from Washington, D.C., and northern Virginia. Washington hotels nearest the National Harbor are on Capitol Hill and in the southeast and southwest quadrants of the city. All are close to the Metro, which has a stop in Alexandria. Water taxis operate between Alexandria and the Harbor.
Courtyard Marriott Capitol Hill Navy Yard
Marriott's Capitol Hill Navy Yard hotel is the closest hotel in the city to the National Harbor. It's also the closest to Nationals Park, where Washington's Major League Baseball team plays. Courtyard participates in the Nickelodeon Your Stay program, where kids get activity books and access to a secret website. The hotel's casual eatery serves contemporary American food, and the very popular Five Guys burger restaurant is a short walk away. The nearest Metro stop, Navy Yard, is one block away.
Maison Orleans
Located midway between Capitol South and Eastern Market Metro stations, Maison Orleans is a bed and breakfast with three guestrooms and a studio apartment. Each room has a private bathroom, and the apartment rental is limited to one-month stays. The house, built in 1902, is decorated with vintage '30s and '40s furnishings. A New Orleans French Quarter-style patio features fountains and ponds. Maison Orleans' host sets up a breakfast buffet in the evening so guests may eat anytime between 11:00 p.m. and 11:00 a.m. The Maison Orleans does not accept credit cards.
Capitol Skyline Hotel
The architecture of the Capitol Skyline Hotel harkens back to the 1950s when Morris Lapidus designed it. Renovated and redecorated with modern and contemporary furnishings by noted designers, the hotel avoids the cookie-cutter look of many chain properties. A large swimming pool and poolside bar, open from Memorial Day until Labor Day, hosts dance parties and happy hours. Lapidus, the hotel's restaurant, serves breakfast, lunch and dinner. The Capitol Skyline provides shuttle service to the Capitol, the Metro, the Navy Yard and the Smithsonian.
Carriage House on Capitol Hill
Carriage House is just a few blocks southeast of the U.S. Capitol and within a short walk of Capitol South Metro station. This lodging, built in 2004, has four guest bedrooms with private bathrooms. Each bathroom has a walk-in shower, and rooms have single queen-sized beds. Children and pets are not allowed in the Carriage House, but a separate facility on the property has two bedrooms, one and a half baths and a full kitchen. Seasonal rates peak during the spring and autumn.
Photo Credits
the capitol building in washington d.c. image by Gary from Fotolia.com