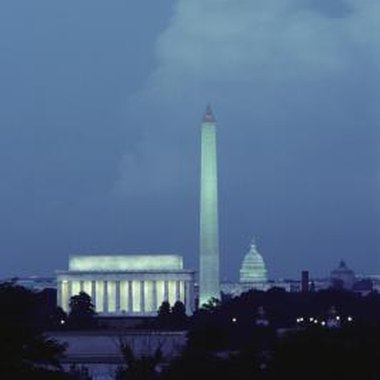 As the nation's capital and a busy international destination, Washington, DC is filled with pricey boutique hotels. Most hotels in downtown DC charge $25 to $45 per night for parking (as of 2010). If you are willing to venture further afield, however, hotels with free parking are available. Choose a hotel that is a near a Metro subway stop for quick and convenient access to virtually the entire city.
Savoy Suites
Located in affluent Georgetown, the Savoy Suites is a rare DC gem -- a hotel within the city limits that provides free parking. A complimentary hotel shuttle connects guests to the Metro system. Hotel amenities include free wireless Internet access, complimentary temporary membership at the Washington Sports Club fitness center, and complimentary use of a laptop computer for the duration of your stay. Guest rooms provide flat-screen HDTVs and comfortable seating areas. Some rooms have full kitchens and whirlpool tubs. The full-service hotel restaurant serves three meals per day and frequently features jazz musicians or other performers.
Days Inn Washington Gateway
Across the street from the National Arboretum, the Days Inn Washington Gateway is in the newly revitalized Northeast quadrant of Washington, DC. Guests should use caution when venturing through the neighborhood on foot, particularly at night, but the immediate environs of the hotel are well traveled and relatively safe. The hotel offers free parking for RVs and buses as well as cars, and a daily hotel shuttle transports guests to Union Station, where you can connect with the Metro subway station. Guest rooms are clean and comfortable, although amenities are basic. Free wireless Internet is provided. A Chinese restaurant is located on site.
Washington Suites Alexandria
Alexandria, Virginia is a historic town that has become a suburb of Washington, DC. Less than 10 miles from downtown DC, the Washington Suites Alexandria provides a comfortable and reasonably priced alternative to pricey downtown hotels. A free shuttle transports guests to the Van Dorn Metro station for easy access to the city. Hotel amenities include free wireless Internet access, dry cleaning service and meeting facilities. All guest rooms feature 42-inch HDTVs, fully-equipped kitchens and sleeper sofas.
Hampton Inn Springfield
The Hampton Inn Springfield is in Springfield, Virginia with easy Metro access to Washington, DC. The hotel provides a daily shuttle to the Springfield Metro station. Hotel amenities include a complimentary hot breakfast and a manager's reception with light appetizers, served Monday through Thursday evenings. The hotel offers a business center, fitness room and outdoor pool. Guest rooms feature your choice of two double beds or a king bed with a sleeper sofa in the study area. Lap desks are provided in every room. Free "On the Run" breakfast bags are available Monday through Friday for those who do not have time for a hot breakfast.
References
Photo Credits
Jupiterimages/Photos.com/Getty Images