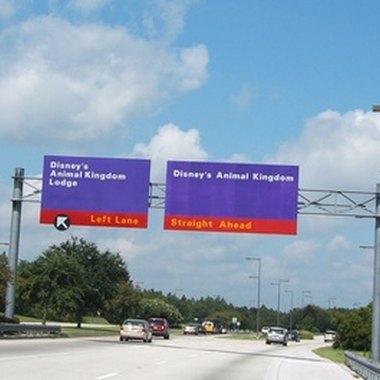 Walt Disney World is known the world over for family-friendly vacations marketed to the masses. What is lesser known about the hotels in the parks is that a few of them offer services catering to high-end guests. These special hotels add a taste of luxury to what might be an ordinary vacation. From gourmet food to original artwork, Disney pulls out the stops when it comes to over-the-top service and vacation luxury.
Spas
Some of the Disney hotels offer luxury full-service spas. The Grand Floridian has a full menu of spa treatments along with a boutique full of bath and skin-care products. Saratoga Springs houses a spa and beauty boutique designed with leafy vines and bold stripes in the decor. The Mandara Spa at the Dolphin hotel is a Balinese-style spa where treatments include the YSPA Teen Program, offering such youth-focused specials as the exfoliating Surfers Scrub, the Fake Bake bronzing for face and body, and mother-daughter and father-son massages.
Restaurants
The crown jewel of Florida dining is in Grand Floridian Resort & Spa. Victoria & Albert's is Florida's only AAA Five-Diamond restaurant. A seat at the chef's table in the V&A is a rare gourmet treat. Artist Point in Wilderness Lodge specializes in the cuisine of the Pacific Northwest, including cedar-plank-roasted salmon and a cobbler made with seasonal berries. California Grill in the Contemporary features California fusion cuisine such as handmade goat cheese ravioli and heirloom apple tart with salted caramel and almond "glass."
Concierge Lounges
A number of hotels in Walt Disney World offer concierge lounges to guests staying on concierge floors. These lounges can become an oasis amid the hurry and bustle of a day in Disney World. All the lounges feature trays of free snacks, small meals, soft drinks, wines and cordials throughout the day, and each one has a different flavor according to its hotel. Animal Kingdom Lodge cooks up African-inspired cuisine, the Grand Floridian serves old-fashioned offerings like scones and cream and Mickey Mouse chocolates, and the Polynesian has dishes such as seafood chowder and duck pot stickers. All the lounges are set away from the rest of the hotel, offering a quiet respite in your busy day.
Shopping
Far from the usual Mickey ears and souvenir pins, high-end shopping in Walt Disney World can be as over-the-top as you desire. The Grand Floridian has shops that offer Tommy Bahama, Ralph Lauren Polo and various women's designer fashions. For art lovers, the Polynesian houses the Wyland Gallery, featuring the marine art of world-famous "Whaling Wall" artist Wyland, who has been known to spend time painting works inside the shop on occasion.
Photo Credits
road to animal kingdom florida Aug 05 image by amethyst from Fotolia.com