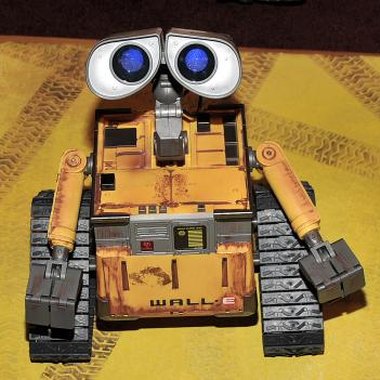 Many children find Disney's animated movie "Wall-E" intriguing and dream of having a robot-themed birthday party. When planning a "Wall-E" birthday party, you can incorporate the fascinating robot theme into the invitations, games and activities. With a few party ideas, creativity and some supplies from your local retail store, you have everything you need to plan a memorable "Wall-E" party for your child.
Invitations
"Wall-E" party invitations are available online and at most party supply stores. You can make your own invitations by printing pictures of "Wall-E" from the Internet and writing the party details on the back of the pictures. For another idea, attach a small "Wall-E" party favor to each invitation and mail the invitations in padded envelopes. Try a more dramatic invitation by making small "robots" using boxes and foil. Write the party details on the robots and hand deliver to the party guests.
Decorations
Decorate the party area with "Wall-E"-themed posters, tableware and balloons. Print large pictures of "Wall-E" scenes from online and hang them around the party area. Use "Wall-E" toys as balloon centerpieces on tables and to scatter around the party area as decoration. Other ideas include placing metal bolts and nuts all over the party tables to resemble robot pieces. Remote-controlled toys are also perfect for a "Wall-E" party, especially remote-controlled robots.
Activities
Have party guests sit around a table and design their own robots. Children can use shoeboxes, cardboard boxes, poster board, aluminum foil, duct tape, glitter pens, nuts, bolts and construction paper to make their robots. Turn the activity into a contest by awarding prizes for the best, most creative and funniest robots. For another idea, have the children work in teams to create a robot. Give the children small juice boxes to make miniature robots they can take home as a memento of the party.
Games
Because Wall-E's job is to clean stuff up, create a trash scavenger hunt for guests to play. Take them to a local park and see who can find the most trash. Children can play individually or in groups. For an easier version of the game, hide trash around the party area and have the children hunt for it. The child or group who finds the most trash wins. Also, try an invention game by dividing the children into teams of three or four. Give each team a different item, such as a small radio, a fork or a can opener. The teams have 20 minutes to come up with a variety of uses for the item they have. Award prizes to the best "new inventions."
Photo Credits
John M. Heller/Getty Images Entertainment/Getty Images