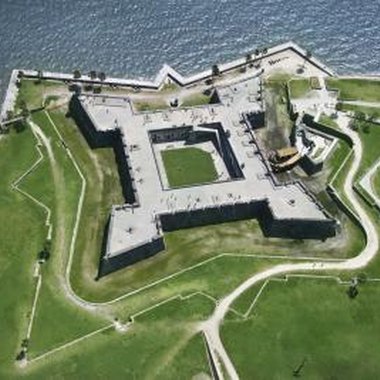 As one of the oldest cities in the U.S., St. Augustine, Florida is believed by some to be home to many hauntings. Many ghost sightings have been reported in the city, including at the Castillo de San Marcos, a fort and site of many battles. Other common attractions for ghost hunters in St. Augustine include a lighthouse, inns, schools, a prison and a military hospital. Many walking tours of haunted sites are available in the city.
A Ghostly Experience
A Ghostly Experience (aghostlyexperience.com) offers a walking ghost tour of cemeteries and haunted sites in the area north of the plaza in St. Augustine. The tours are children- and wheelchair-friendly. The tours focus on legends, folktales and ghostly experiences. The tours are held every night starting at 8 p.m. with additional tours at 9:30 p.m. on Fridays and Saturdays. At time of publication, rates were $14 per person, with a discount for purchasing online, and children 6 and under were admitted free. Participants must call ahead or buy tickets online before their tour.
Ghosts & Gravestones
Another "frightseeing tour" of the city is the Ghosts & Gravestones tour (ghostsandgravestones.com). This tour visits some sites believed by some locals to be highly haunted, including the city's lighthouse and Old Jail. In addition to the walking portion of the tour, the journey includes a trolley ride. Operators advise that the tour may be too scary for children under 13, and children under 4 are not permitted. Call or purchase tickets online before your desired tour. Tours operate from 7 to 10 p.m. daily. Ticket prices at time of publication were $26 for adults and $14 for children 4-12 years old, with a discount for purchasing online.
GhoSt. Augustine
Tours by ghoSt. Augustine (ghostaugustine.com) include a walking tour, the Dead Walk Tour, of haunted portions of the city, focusing on historic and narrow city streets that cannot be visited by car. GhoSt. Augustine also offers hearse rides, Paranormal Investigative Tours and Haunted Pub Tours of the city. The Dead Walk Tour is held at 7:15 p.m. nightly, with additional tours at 9:45 p.m. on Fridays and Saturdays. Tickets at time of publication cost $10 for children 6-12 and $16 for adults, with a discount for purchasing online. Tickets must be reserved before the tour.
Ghost Hearse
In addition to hearse rides, the Ghost Hearse touring company offers walking tours of haunted sites in the city (ghosthearse.com). The tours are led by trained paranormal experts and visit haunted streets in the city. Participants can also use a reader to detect potential hauntings during the tour. Children are welcome on the tour, and admission is free for kids under 6 years old. Tours are held at several times each night, and tickets as of publication were $14 per person. Tickets must be purchased online or reserved by phone in advance. This company also offers Pub Tours in the city.
Photo Credits
Jupiterimages/Comstock/Getty Images