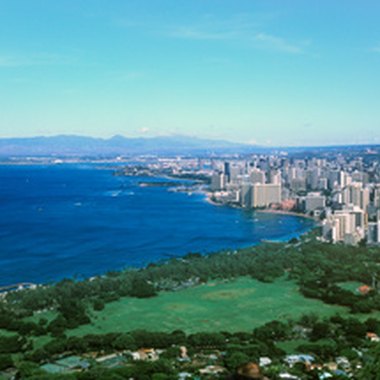 In 1794, Honolulu's Waikiki Beach was a battleground between rival islanders. Today, it is a playground for visitors worldwide. They travel to Hawaii to experience all that the resort hotels of Waikiki offer in premium accommodations and amenities to complement Waikiki's scenic, restaurant, shopping and other attractions. Waikiki resort hotels also hold in store the best gift of all: rooms with breathtaking ocean views.
Halekulani
"Halekulani" means "house befitting heaven," a name given to this Waikiki Beach resort hotel by previous owners who intended it to serve wealthy vacationers. The hotel has welcomed visitors to Waikiki Beach for about a century. The original main building remains the hotel's principal dining and gathering place, with its handsome eucalyptus floors and skylight. The oceanfront Orchid Suite offers a culinary program, an en suite wine cellar and a state-of-the art spa master bath. Halekulani's own chocolates await guests' arrival. The hotel's restaurants include La Mer for elegant dining, Orchids for casual cuisine and House Without A Key for relaxed resort fare.
The Kahala Hotel and Resort
Conrad Hilton built the original Kahala Hilton as an exclusive resort getaway, just minutes from Waikiki. Visitors staying at The Kahala Hotel and Resort become members of a glittering guest history. It is a virtual who's who of film and television stars, royalty, and sports and literary legends. They include every U.S. president since Lyndon Johnson, Queen Elizabeth and Prince Phillip of Great Britain, and numerous celebrities. Everything, from dolphin encounters to pampering massages is available. The Kahala Beach Suite features three glass sliding doors that open onto a wrap-around patio with direct beach access. At beach side Koku's, try Hawaiian, Asian and European selections, in a multi-level dining room with an open kitchen of hot woks and tandoori ovens. Step back in time to old Hawaii for afternoon tea, coffee or cocktails in the plantation-style Veranda.
The Sheraton Waikiki
The Sheraton Waikiki offers ocean-front views from most of its rooms and suites, and happily, many have lanais. Spend time at the two fresh water swimming pools or enjoy the nightly poolside entertainment. The Infinity pool creates just that illusion, with spectacular vistas of Diamond Head and Waikiki Beach. Cuisine is a treat, with the accent on locally grown foods. Sample Hawaii's ethnic foods heritage at the Kai Market. Lunch or dinner is a dramatic experience at the Rum Fire with its fire pits, extensive vintage rums and "BeHawaiiian" menu. The Edge of Waikiki is the hotel's alfresco dining pool bar, where spotting sea turtles is a bonus.
Hyatt Regency Waikiki Beach Resort and Spa
The "former playground of Hawaiian royalty" is where guests of the Hyatt Regency Waikiki Beach Resort and Spa relax, according to the hotel website. A wide range of room choices includes Deluxe Ocean Front Rooms. They have balconies, and windows which open, for gazing out at spectacular views of Waikiki Beach. These rooms have Hawaiian-style décor and a host of amenities. There's also a pleasing array of cuisines. Seafood and steak are The Colony's highlights. The aptly-named Ciao Mein serves Italian and Chinese food, while Hyatt on the Beach is the place for a quick snack.
Photo Credits
honolulu, waikiki beach from diamond head image by Robert Young from Fotolia.com