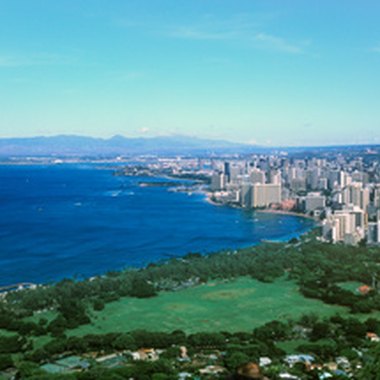 Once known as a getaway for Hawaiian royalty, Waikiki, on the south shore of Honolulu, is now famous for its hotels, many of which are within three blocks of the beach. The beaches of Waikiki are a popular international tourist destination, not just because of the amount of getaway hotels available, such as the Waikiki Gateway Hotel, but also for the recreational opportunities on Kalakaua Avenue.
Location
One of 15 hotels on Kalakaua Avenue, the Waikiki Gateway Hotel is located a quarter-mile from the sands and surf of Waikiki Beach and the Waikiki Beach Walk, 9 miles from the Honolulu International Airport and a half-mile from the Hawaii Convention Center. Other area attractions include the USS Arizona Memorial/Pearl Harbor (10 miles), Honolulu Zoo (1 mile), Waikiki Aquarium (1 mile), Diamond Head (2 miles) and Chinatown (3 miles). For guests who enjoy shopping, the International Market Place is located a half-mile from the Waikiki Gateway Hotel.
Accommodations
Inspired by nature, the Waikiki Gateway Hotel decor incorporates the use of bamboo, wood, live plants and neutral colors. Accommodation options guests include a single or premium standard room; deluxe rooms with views of Waikiki, the nearby park or the Pacific Ocean; kitchenette room for guests wanting to cook their own food; a terrace room with views of the ocean or the city; and a penthouse suite, which also has a kitchenette.
Services and Amenities
In addition to the basic amenities offered at most hotels, the Waikiki Gateway Hotel also offers in-room safes that will fit a laptop, Internet access and blackout drapes. Hair dryers, irons and ironing boards are available upon request. When the waves are too rough or a guest wants to avoid getting sand in his shorts, he can swim in the outdoor pool. The business center offers guests the use of computers, a photocopier and printer. Those staying in rooms with a kitchenette can request to have groceries delivered. For a fee, guests can partake in the continental breakfast or use the airport shuttle.
Specials and Packages
In 2010, the Waikiki Gateway Hotel offered specials and packages to prospective guests. The Early Booking special gives guests a 10 percent discount when they book a deluxe room during the off-season for three or more nights. The Weekly Stay package offers guests who plan to stay at the Waikiki Gateway Hotel for at least a week the chance to upgrade their room to one with a kitchenette. The Hawaiian Hotel Dining package is one targeted at couples. It provides a stay in a deluxe room and a gift certificate, the amount of which varies, to use at an area restaurant.
References
Resources
Photo Credits
honolulu, waikiki beach from diamond head image by Robert Young from Fotolia.com