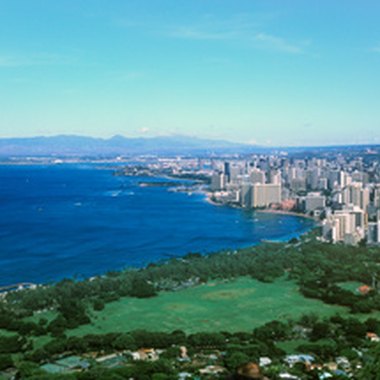 From complimentary fresh fruit and chocolate to free yoga classes and fruit drinks, Waikiki Beach hotels offer a range of amenities for vacationers. Condo-style hotels here tend to be cheaper and offer larger rooms and full kitchenettes, but you can't beat the service and attentiveness at some of the smaller boutique hotels. Whether you're looking to stay in a massive high rise or an intimate cabana-style complex, there's a Waikiki hotel for you.
Embassy Suites Hotel Waikiki
You can't beat the location and amenities at this ultra-luxurious outpost of the ubiquitous chain hotel, located just steps from Waikiki Beach and offering high-tech suites with multiple flat-panel LCD TVs, DVD and MP3 players. Complimentary cooked-to-order breakfasts are offered daily, and the nightly cocktail reception provides alcohol free of charge. The two towers of the hotel are connected via a massive lobby, featuring a waterfall, swimming pool, sun deck and covered terrace -- perfect for lounging about after a trip to the beach.
Halekulani Hotel
At first, it may seem like the prices at this luxury hotel on Waikiki are too high, but when you consider that the hotel provides complimentary tickets to some of the biggest local attractions in the area and all the amenities you could ever ask for, suddenly the bottom line doesn't sound so bad. Spread out over five acres of prime beachfront property, rooms at the Halekulani are connected via lush gardens and open courtyards. Most of the rooms face the ocean, and all feature marble vanities, 40-inch flat-screen televisions, and complementary fresh fruit and chocolate upon arrival. The Halekulani property also contains a large outdoor pool, spa and three upscale restaurants.
Hotel Renew
Free yoga classes, complimentary breakfast and fully wired rooms with 42-inch flat-screen televisions, iPod docking stations and free wireless Internet access are the main draws at this moderately priced boutique hotel just steps from Waikiki Beach. The hotel also offers a bevy of other complimentary services, including beach chairs and towels, daily newspapers and a free drink on arrival. Rooms are sleek and modern, and many come with balconies. Check out the attached bar, Lounge Renew, for daily Happy Hour specials.
Ilima Hotel
A reasonably priced, condo-style hotel with surprisingly large rooms, Ilima is a tasteful and spacious choice for Waikiki bargain hunters. All studio rooms come with full kitchens, private balconies, cable television and high-speed Internet access; one-bedroom units even come with Jacuzzi tubs. The hotel's location, near the Royal Hawaiian Shopping Center and two blocks from Waikiki, can't be beat. Make use of the attached sundeck and the exercise room with sauna.
Photo Credits
honolulu, waikiki beach from diamond head image by Robert Young from Fotolia.com