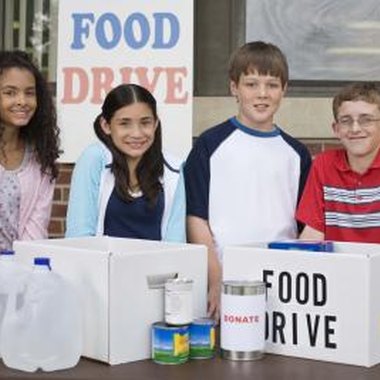 Although many volunteers are more comfortable giving than receiving, organizations and their members can recognize and appreciate the people who contribute tirelessly and selflessly to help others in need. A carefully worded invitation is the first step in organizing a volunteer appreciation event.
Front of the Invitation
Place the name of the event on the front of the invitation in big, bold letters. Use words like, "Animal Shelter Volunteer Appreciation Dinner," or "Mercy Hospital Volunteer Recognition Event." If your organization has a theme to the event, place that underneath the title. For example, a dinner for animal shelter volunteers may choose something like, "Going to the Dogs." Mercy Hospital may choose a theme like, "Honoring Our Angels of Mercy." Be creative, and shoot for a play on words or a catchy theme.
Organization Information
On the inside of your invitation, include a small blurb that clearly explains the objectives of your organization, and the work your volunteers perform. Say something like, "Ladies for Literacy is a group of women who selflessly give their time and talents in order to help others learn to read. They assist those in need, regardless of age, sex or nationality, for free. We believe that everyone should be able to curl up with a good book."
Event Information
State clear details of the event. Include the day, date, location, time and function of the event. For example, "On Wednesday, July 13, 2011, we will gather at the Red Rose Cafe at 112 N. Main Street in downtown Dayton, Ohio, to honor the volunteers of the Nurses for the Needy. Drinks and appetizers will be served from 5:00 to 7:00 p.m., followed by a dinner of roast lamb, mashed potatoes, steamed green beans, and homemade sourdough rolls. Dessert and coffee will be served after an inspiring program lead by our President, Amanda J. Roberts."
RSVP Instructions
After you outline everything your invitees need to know on the front and inside of the invitation, conclude by telling your guests how to reserve their spot at this function. Say something like, "Please RSVP to Pamela Martin at 937-555-1212 by 5:00 p.m. on Saturday, June 3, 2011, to secure your place at one of our elegant, decorated tables. Dinner is provided free of charge for our volunteers. All others are asked to contribute $15 per person to cover the cost of attendance. We look forward to seeing you there."
Photo Credits
Jupiterimages/Creatas/Getty Images