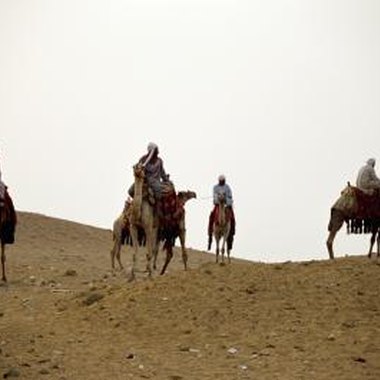 The Western Desert in Egypt is home to the cave in which the heroine in The English Patient died. The cave is called the Cave of Swimmers, located at Gilf Kebir, a huge plateau located north of Uwaynat. According to Tour Egypt, to visit this location you will need to be in excellent physical shape, as you will be traveling deep into the Western Desert for a very intense experience. But, if you are looking for a tamer experience, the Western Desert will not disappoint. It offers places to visit for those who want to take it easy, as well as for those who want exhilarating adventure.
Step

1
Determine your level of physical shape. How physically fit you are will dictate the type of tours you can handle. There are jeep tours available, as well as more physically active tours, such as those conducted from atop a camel.
Step

2
Contact your choice of tour company. Tour Egypt recommends you contact a company that is a member of the Association of Egyptian Travel Businesses on the Internet. You can contact Tour Egypt directly to ask for help in choosing a tour company. Tour Egypt is the official website of the Ministry of Tourism of Egypt.
Step

3
Choose several tour packages to match your level of physical shape. If you can handle a 3-day trek on top a camel, choose those tours. If you'd rather be in an air-conditioned jeep, then choose those less intense tours.
Step

4
Narrow down your package choices to those that offer the sites you most want to visit.
Step

5
Reserve your travel package with the tour company for your dates of travel. Research the weather during your travel times so you know what to expect. If you are going during the hot months, prepare to take water and sun protection. If you are going during the cooler months, take enough clothing to keep warm.
Step

6
Apply for or renew your passport. After you arrive in Egypt, apply for the mandatory tourist visa. As of June 2011, the renewable 30-day tourist visa costs $15. If you have had problems acquiring an Egypt visa previously, you will need to obtain a visa prior to your date of travel.
Step

7
Purchase your airline tickets as soon as your dates of travel are set.
Tips & Warnings
Make excursions during sunrise or sunset if you want to take photographs during the golden hours when the light is still soft.

During the desert tour, make sure you stay hydrated by drinking lots of water.
Photo Credits
Brand X Pictures/Brand X Pictures/Getty Images