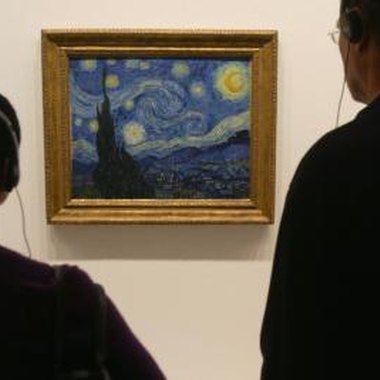 "Starry Night" is among Vincent Van Gogh's most famous paintings. The piece was painted in 1889, when the artist was institutionalized in an asylum in Saint-Remy-de-Provence, in southern France. This famous piece is not the only starry sky created by Van Gogh; he created a piece with a similar theme a year earlier, known as "Starry Night over the Rhone." "Starry Night" is currently in the permanent collection at the Modern Museum of Art in New York.
Materials Used
"Starry Night" is an oil painting that was executed on canvas a year before the artist's suicide in 1990, at the age of 37. The measurements of the canvas are 72 x 29 by 36 1/4 inches.
Colors Used
Most colors used by the artists are cold tones of blue, juxtaposed with thin stripes of orange. Van Gogh uses powerful yellows when painting the stars and the crescent moon in the night a "long time before sunrise," as the artist depicts the night to his brother Theo in a letter. The village is painted in cold, dark colors.
Theme and Composition
The painting depicts the village of Saint-Remy as viewed from the asylum Van Gogh was living in. Van Gogh combines elements from the views from the north and south of the asylum facing the village and adds a cypress as a compositional element that also suggests seclusion. A church spire evokes the Netherlands, where Van Gogh was originally from. The composition is painted combining elements from reality and the artist's memory. Van Gogh didn't intend to create a thorough description of the view from his room, but to create an impression that the view made on him and his own inner struggle. The features of the night are exaggerated. The composition is dynamic, and the swirling sky and the flaming cypress contrast with the quiet village. The curves in the sky keep the eyes moving, allowing the onlookers to discover the peaceful village.
Brushstrokes in "Starry Night"
The brushstrokes are extremely important in the creation of this painting. Van Gogh employs a thick paste of oil paint, and the brushstrokes are visible. The artist applies several layers of colors and mixes the colors on the canvas rather than the palette. The colors mix with the underlying layers and create a vibrating effect. For instance, Van Gogh places contrasting colors, one next to the other when painting the sky (such as blue and orange). The artist creates curvy lines in the sky, which add some depth to the painting. The depth of the painting is also created by the thick layers of color.
Photo Credits
Sean Gallup/Getty Images News/Getty Images