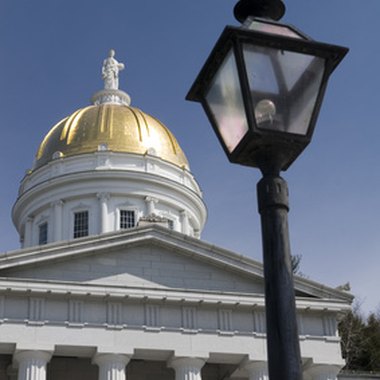 Hotels and motels in Vermont are as varied as the state's landscape. Historic hotels overlook village greens and flank city main streets. You'll find family-friendly properties, offering a host of activities and guided excursions into Vermont's dense forests and mountains and around its lakes and streams. Lodge-style accommodations are scattered throughout the Green Mountains, and in cities and towns across Vermont, there are local mom-and-pop motels.
Historic hotels
Vermont has a number of historic hotels. Some have been operating as hotels since the 18th-century; others are housed in historically significant buildings or renovated homes and mansions. The Basin Harbor Club in Vergennes opened in 1791 as the Harbor Homestead and has welcomed five generations of travelers. The property sits on 700 acres overlooking Lake Champlain, with 74 cottages and 76 rooms, including 13 rooms in the original lodge. The Equinox in Manchester Village has 17 different buildings, some dating back to the late 1700s. Four past U.S. presidents have stayed at the hotel.
Family-friendly properties
Most family hotels and motels take advantage of Vermont's mountains, lakes and forests by offering guided outdoor activities. Smugglers' Notch in northern Vermont has on-site daycare and kids and teen programs and activities, including arts and crafts, nature walks, snowshoeing and skiing. The Golden Eagle in Stowe has a slew of kids' programs, including rock climbing, fishing, horseback riding, cookouts and dances. The hotel, located on 80 acres, also includes two miles of hiking trails.
Mountain lodgings
The Green Mountains form the backbone of Vermont, stretching north to south through the state. You'll find a number of hotels and motels with close proximity to the mountain range. The Stowe Motel sits on 16 acres along the Westbranch River, within minutes of Vermont's mid-state mountain peaks, like Mount Mansfield. The motel has a heated swimming pool, tennis courts and game room. Snowshoeing, skiing, hiking and biking are nearby. The Comfort Inn at Killington Center, on the Killington Mountain Resort access road, has rooms, efficiencies and suites, and offers a shuttle service to the ski mountain and area shops and restaurants.
City hotels and motels
Hotels and motels in Vermont's larger cities, like Burlington, and resort towns like Manchester offer access to shops, galleries and restaurants. The 258-room Hilton Burlington is walking distance to Church Street Marketplace, home to more than 100 shops and restaurants. The Manchester View motel, with a variety of rooms and suites, is close to the Manchester Village designer outlet shops, restaurants and cafes.
Photo Credits
The gold topped state capitol building in Montpelier, Vermont image by Rob Hill from Fotolia.com