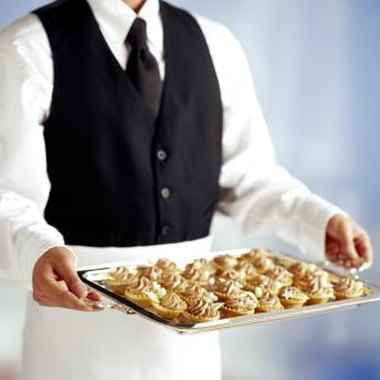 Throwing a party means providing activities, entertainment and food for your guests. While many venues provide a package that includes food and entertainment, it can be cheaper to make separate arrangements. An outside caterer might be able to accommodate guests with allergies or special diets, and shopping around gives you more menu options. If you're in Hunstville, Alabama, several party venues allow outside catering.
Convention Centers
If you're hosting a large party in tandem with a major event, the Von Braun Civic Center on Monroe St. has banquet facilities that allow outside catering. The Center hosts concerts, sports games and even rodeos, so your guests won't have to travel far to catch the action. The Jackson Center on Genome Way is more business oriented, but if you are planning a meet-and-greet professional party, this might be the venue for you. They offer their own catering but allow outside caterers, as well.
Banquet Halls
While many banquet halls are attached to hotels that prefer to provide food, there are several venues in Huntsville that allow you to choose an outside caterer. The Knights of Columbus located at 3053 Leeman Ferry Road Southwest has no problem with outside food. If you prefer not to use a religious affiliate, look into Annabella at Cedar Glen at 5264 Rustic Terrace, or the Freeman House at 205 Lincoln St SE.
Outdoor Venues
The Huntsville Botanical Gardens hosts parties with outside catering, so long as you choose from an approved list of catering businesses provided by them. The facility is located at 4747 Bob Wallace Ave. SW. There are multiple parks in Huntsville that allow outside catering for events, as well. At some, such as Big Springs Park on Monroe St. SW and Huntsville Park on Triana Boulevard SW, you do not even need to rent space.
Themed Venues
If you'd like your party to follow a theme, several venues that cater to certain interests that allow outside food. If you've got dancers on your guest list, you may enjoy The Huntsville Ballroom At Rocket City Dance Club, located at 2614 Artie St. SW. For scientists or curious children, Sci-Quest on Wynn Drive. Call ahead to make arrangements for outside caterers. Nature lovers might really enjoy the scenery at Monte Sano State Park at 5105 Nolen Ave SE.
Photo Credits
Brand X Pictures/Brand X Pictures/Getty Images