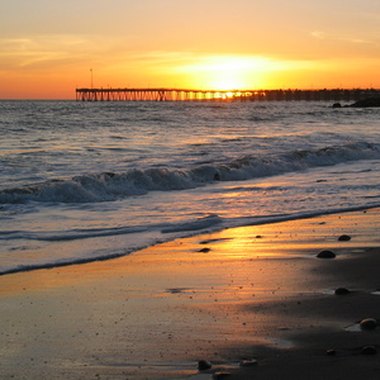 The city of Ventura wedges comfortably between the Pacific Ocean and sprawling foothills protecting it from the state's desert interior. Two rivers feed Ventura's valleys, making for bountiful citrus harvests and avocado groves. But the town's main attraction is undoubtedly the many miles of coastline, some undeveloped and protected by government law. Ventura's beaches attract surfers, families, fishing boats, photographers and sun worshippers. Staying at Ventura's waterfront hotels can be a rewarding way to enjoy this ocean-minded community.
Boardwalk Elegance
Ventura's beachfront promenade is refreshingly roomy, accommodating cyclists, joggers, surfers and photographers making their way to San Buenaventura State Beach or popular California Street surf break. The Crowne Plaza Ventura Beach hotel, situated on the boardwalk, offers views to the adjacent pier, winding coastline extending to Santa Barbara County and nearby Channel Islands. Walk to the pier for fresh fish tacos, steaming clam chowder and live reggae music during the summer. Ventura's Seaside Park, which hosts the annual Ventura County Fair, is within walking distance. Downtown Ventura's antique shops, natural food cafes and historic mission are also within walking distance.
Casual Neighborhood
Ventura's Pierpont Beach is one of the community's close-knit neighborhoods, with surfers swapping tall tales over to-go cups of coffee before checking out the surf, and families walking their dogs or watching the sunset together. Inn on the Beach, located in the heart of Pierpont Beach, also offers convenient access to the San Buenaventura State Beach volleyball courts and sand dunes, mere blocks away. The hotel offers basic amenities, including free continental breakfast and wireless Internet access, but the real draw is the beach. Grab a mahi taco at Duke's Restaurant, located across the street, or order a batch of deli sandwiches from the nearby Vons grocery store for an inexpensive beach picnic. Grab a boogie board, rent a surfboard or relax on the sand dunes.
Harbor Access
Ventura's busy harbor bustles with activity, including sailboats departing for the Channel Islands, commercial fishing boats, whale watching vessels and intrepid kayakers, outrigger canoes, and family paddleboats. Staying at the Holiday Inn Express Ventura Harbor provides convenient access to the harbor, a boon for families who want to treat kids to nearby carousel rides and seasonal festivals. Adults will enjoy the fish and chips and clam chowder bowls at nearby Andrea's Seafood Restaurant. Hotel guests can access wireless Internet access, free continental breakfast and video check-out.
Pool Relaxation
After spending the day jumping around in the San Buenaventura State Beach waves, retreat back to the Ventura Beach Marriott to relax at its spacious outdoor swimming pool, which features plenty of lounge chairs, roomy hot tub and tropical landscaping. Hotel staff will bring out specialty cocktails for poolside relaxing. Basic amenities include microwaves and mini-fridges, and there is an on-site restaurant and fitness center.