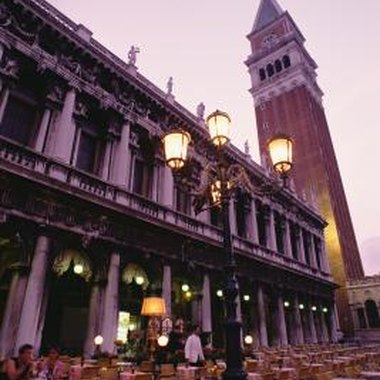 Venice's main train station is Santa Lucia, located on the northern edge of the island city. One of Europe's top tourist destinations, Venice is a compact city and can be explored on foot or along its canals in waterbuses called "vaporetti." A selection of hotels cluster around the station, ranging from the luxury to the cheaper end of the market. Most Venetian hotels have no restaurant, but the city has an abundance of eateries, mostly serving Italian food. International cuisines are a rarity.
Hotel Bellini
Just a few steps from Santa Lucia Station, the Hotel Bellini is set in an 18th-century palazzo overlooking Venice's Grand Canal. The marbled interiors feature antique furnishings from the 18th and 19th centuries and Murano glass chandeliers. Guests can enjoy breakfast or a drink in the hotel's courtyard garden. Nearby restaurants include Trattoria Bella Venezia, Ristorante All'Aquila and Pizzeria Vittoria. A 15-minute walk from the Bellini, the Ca'Pesaro International Gallery of Modern Art is housed in a magnificent Baroque palazzo completed in 1676.
Hotel Abbazia
Occupying a former Carmelite abbey, Hotel Abbazia is a little over 100 yards from Santa Lucia Station. The hotel has a peaceful courtyard garden, which combines modern and traditional garden design. Pride of place in the lounge goes to the original wooden pulpit once used by the monks who lived here. Restaurants within a five-minute walk include Trattoria al Vagon, Ristorante al Brindisi and Pizzeria ai Bari. The Basilica dei Frari, a Franciscan church in Gothic style with notably lavish interiors, dates from the 14th century and is a five-minute walk from the Abbazia.
Hotel Alloggi Agli Artisti
Three minutes' walk from the Santa Lucia Station, Hotel Alloggi Agli Artisti is housed in a building that was a small factory making a well-known Italian brand of men's hair oil until the 1960s. The hotel provides breakfast and a good choice of eateries for other meals is within a 10-minute walk. These include Osteria Al Ponte La Patatina, Trattoria Agli Amichi and Ristorante Al Vinatier. The unrivalled collection of Venetian old masters housed at the Gallerie dell'Accademia is a 20-minute walk from the hotel.
Canal Grande Hotel
The Canal Grande Hotel is a five-minute walk from the Santa Lucia Station via the Ponte degli Scalzi, a bridge crossing the Grand Canal. The hotel occupies the restored palazzo of Ca' Polacco and the interiors are decorated in ornate, Rococo style. A terrace overlooks the Grand Canal, and there is an entrance directly on the canal where vaporetti stop. The hotel provides breakfast and guests can take other meals at nearby restaurants like Osteria da Fiore, Trattoria Antic Besseta or, more unusually for Venice, the Perla D'Oriente Chinese restaurant.
Photo Credits
Jupiterimages/Photos.com/Getty Images