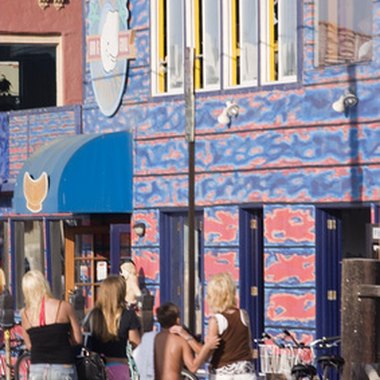 An eclectic collection of people gather to swim, jog, bike, rollerblade, play hoops, get a tattoo or pump some iron on California's famed Venice Beach. This boardwalk features multiple sports and recreational activities for outdoor-lovers, in addition to local art, culture, dining, and shopping experience for visitors. Venice Beach offers a variety of accommodations for families, couples or the lone traveler wishing to experience some local flavor.
Retro and Chic
The Hotel Erwin fits well into the diverse Venice Beach landscape. Featuring retro-themed accommodations, this establishment provides over 100 rooms for tourists exploring Southern California and couples or individuals needing a quick getaway from the city. The High Rooftop Lounge, one of the unique features of this beachfront hotel, offers guests cocktails and appetizers while they enjoy a panoramic view of the entire city. The hotel, which earned a three red-diamond rating from AAA, features seven types of guest rooms ranging from the loft-style "Dogtown Sweet" to the "Premier Ocean View King" with luxurious amenities and services, including private balconies. In addition, the hotel offers guided beach-walking tours for out-of-towners looking to experience the local Venice culture.
Quaint Lodgings
The Venice Beach House, awarded a two black-diamond rating from AAA, features quaint lodgings just a block away from the beach. An ideal quiet location, for a restful vacation, The Venice Beach House still remains within walking distance to the main boardwalk and Venice water canals. The Venice Beach House provides guests with more home-style lodgings in a charming house away from the main boardwalk. This venue can appeal to travelers who enjoy bed-and-breakfast-style accommodations.
Families and Business Travelers
The Inn at Venice Beach provides the business traveler and families with a vibrant hotel that offers a host of amenities, making the vacation more comfortable for everyone. The Inn received a three black-diamond rating from AAA, for its elegance, service and stylish Spanish décor. One of the unique features that distinguishs the hotel is the Cobblestone Café and Courtyard, which provides guests with a picturesque ambience while enjoying complimentary continental breakfast. In addition, guests can also enjoy the holistic healing spa services at Creative Chakra.
The Basics
For those interested in neat, contemporary and cozy lodgings, Venice on the Beach Hotel offers reasonably priced guest rooms for a weekend getaway. Located at the heart of Venice Beach, next to the Venice Pier and in front of the volleyball courts, this hotel offers a quiet, relaxing stay in a comfortable environment. It features the basic amenities in addition to an ideal location within walking distance to restaurants, bars and nightlife. The hotel can be an ideal stay for individuals or couples needing a restful break.
Resources
The Inn at Venice Beach; 327 Washington Blvd.; Venice, California 90291; 310-821-2557