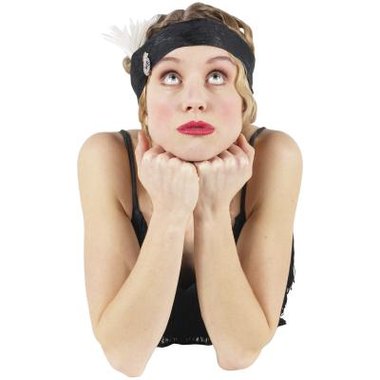 Vaudeville was an important entertainment form in the U.S. before movies took over in the 1930s. The shows included a large variety of staged entertainment, from singing and dancing to magic or acrobatic displays, animal acts and the performance of funny or dramatic pieces. Parties with a vaudeville theme have become very popular and there are several ideas that can be used for a successful party.
Invitations
For invitations, download photos of vaudeville acts from the Internet, print them on regular paper and cut them out. Don't mind the poor quality of the low-resolution prints; crumple or crease the pictures lightly to give them a charming vintage look. Glue them on white folded card stock. Write "Invitation" on the front and give the details of the party on the inside.
Costumes
Vaudeville was most popular between 1880 and 1930; some of the famous performers included Charlie Chaplin, the Great Houdini and singer Al Jolson. The era spanned many styles and fashions, from Art Nouveau to the "Roaring '20s." Request guests to come in a costume of their choice. Women can choose from a long skirt with a high-necked, long-sleeved frilly blouse and a large, wide-brimmed hat or a flapper dress and cloche hat. Men could wear white shirts and black suits or they could choose to dress as a famous vaudeville performer, such as Chaplin in his "Little Tramp" costume.
Entertainment
Instead of bringing presents, flowers or bottles, ask your guests to contribute to the party by performing a short act. Most people are good at something and this gives them the opportunity to show off. Acts could include a couple performing the balcony scene from "Romeo and Juliet," singing a duet or dancing a tango, while others might be good at telling jokes or making coins disappear. Apply the principles of vaudeville by allowing anything that might be entertaining but not offensive to an audience. Ask the guests to describe their acts to you three to four days before the party so that you can prepare a program, which you will hand out at the door as the guests arrive.
Food
Serve simple finger food that you can place on a buffet table for the guests to pick up when hungry. Dishes can include sandwiches with smoked salmon, roasted meat or vegetarian options with good cheeses. Also offer some hot food, such as sausages, small pizzas, meat pies or meatballs, as well as vegetable sticks and dips. Cupcakes, brownies and cookies are a good idea for dessert. Vaudeville was a social event and finger foods will give the guests a chance to mingle, watch the acts on the program and leave you with less work before and after the party.
Decorations
Clear an area for the "stage." You can define it by setting lightweight garden columns or potted palms on either side of the space. Set up an easel at one side of the stage. Write the name of each act on large white cards; as one act finishes, place the next act's card on the easel. Download images of vaudeville acts and posters of playbills and place them in inexpensive frames to decorate the walls.
Photo Credits
PhotoObjects.net/PhotoObjects.net/Getty Images