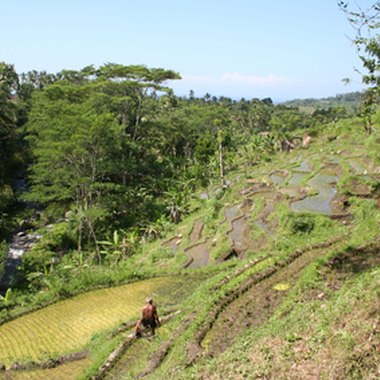 Celebrated as the "Island of the Gods," Bali's hybrid Hindu culture combines elements of Buddhism and animism. Spirituality permeates every aspect of local life. It's nearly impossible to walk in Bali without stepping on a handwoven reed basket filled with flower and rice offerings. In juxtaposition, the island's tropical climate, sandy beaches and energetic nightlife encourage the all-out pursuit of earthly fun. A resort vacation indulges the desire for complete immersion in a choice activity or provides a comfortable base from which to experience all of the island's charms.
Scuba Diving
Surrounded by coral reefs, Bali's warm waters host a kaleidoscope of sea creatures. The island's dive resorts, including Alam Asmara in Candidasa and Siddhartha at Kubu on Bali's northeast coast, combine accommodations with daily scuba excursions to sites along the east coast and around Pemuteran off the north shore. At most dive resorts on Bali, novices can earn their diving qualifications with instructors certified by the globally recognized Professional Association of Diving Instructors (PADI) or Scuba Schools International (SSI). Seasoned divers can explore a shipwreck, night dive, descend into deep-water holes and face off with a giant sunfish.
Surfing
Bali appeared on the surfing scene's radar in the 1960s, and reef barrels at Uluwatu, Padang Padang and Impossibles draw expert riders from around the world. Novice surfers paddle out en masse to the forgiving sand break at Kuta Beach. Surf camps provide proximity to the waves and the camaraderie of shared pursuit. Though many stick with the basics in terms of accommodations, boutique surf hotels like the Blue Point Bay Villas near Pecatu and La Joya on Balangan Beach indulge their guests with the legendary Bali hospitality. Surfing in Bali takes place mostly in the southern half of the island, with a few scattered breaks up north.
Cultural
Bali's cultural pulse emanates from the mountain town of Ubud at the island's center. Surrounded by picturesque rice paddies and ancient temples, Ubud's tourist development, though intense, retains the island's traditional character. From internationally recognized names like the Four Seasons at Sayan to independent properties like Sahadewa, resorts here reflect local architecture. Activities focus on Balinese music and dance, art and social customs. Located about an hour from the international airport, Ubud offers an alternative to the typical Bali beach vacation while still providing easy access to the famed coast.
Luxury
Clustered primarily in Nusa Dua on the southern Bukit Peninsula, Bali's luxury resorts attract an upscale international clientele. Companies like Hilton, Hyatt, Sheraton, Westin and even Aman Resorts rub shoulders along the two-mile white-sand beach, What the five-stars lack in local color, they make up in well-appointed comfort. These resorts deliver a self-contained experience, with on-site dining and spas, golf and other recreational activities at hand. Scattered across the island, a handful of additional resorts market luxury spa vacations with hilltop views, jungle isolation and smoking volcanoes.
Photo Credits
Rizières en terrasses à Bali image by Frédéric LEVIEZ from Fotolia.com