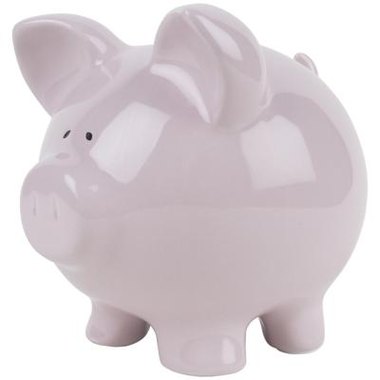 As you're gathering all the decorations to display at your loved one's baby shower, a piggy bank or two for the table can add more color to the celebration while serving as multipurpose decor. Adorning the banks with other color-coordinated craft supplies or items to make them more eye-catching may prompt guests to fill these decorative items with all sorts of valuable things that will assist the mommy-to-be in nurturing and protecting her bundle of joy.
Items you will need
Piggy bank

Ribbon

Hot glue

Index cards

Small or large synthetic flower wreaths

Synthetic pearls

Paint

Paintbrush

Spray glitter

Sticky notes

Quill pen
"Parental Advice" Piggy Bank
Step

1
Purchase ribbon in a color or pattern that will match the rest of the baby shower decor. For instance, choose ribbon with a gingham pattern for a country-style shower, or a ribbon in bright red or yellow for a celebration with a fiesta theme.
Step

2
Tie the ribbon around the neck of the piggy bank so that it looks like a bow tie, if the shower is for a boy. Or, tie the ribbon in a bow and hot-glue it to the piggy bank's head to resemble a hair bow for a baby girl's shower.
Step

3
Paint the words "Advice Bank" on the side of the piggy bank.
Step

4
Stack pink or blue index cards on the side of piggy bank, along with a pen or marker, so loved ones can write a short note of advice to the baby's mother and father. For instance, guests who also have small children may offer advice like "sleep when the baby sleeps," while parents of older children may charge the parents-to-be to enjoy every moment of their child's infancy, since it goes so fast.
Piggy Bank Money "Tree"
Step

1
Place a wreath of flowers in colors that match the decor around the piggy bank to draw more attention to it.
Step

2
Paint the words "baby's first bank account" on the side of the bank, so guests know to drop money in.
Step

3
Spray a light sheen of glitter on the piggy bank or flowers for added sparkle.
Step

4
Place index cards and pens by the piggy bank in case guests want to write a heartfelt note to the little one along with their monetary contribution.
Well Wishes for Baby
Step

1
Give the piggy bank some accessories like a small flower wreath to go on its head, or a string of colored synthetic pearls to drape around it's neck.
Step

2
Paint the baby's name or initials on the piggy bank's side.
Step

3
Position the small sticky notes that resemble baby blocks, stars or hearts on either side of the piggy bank, along with a quill pen, so loved ones can wish the baby well. Messages may include things like "We can't wait to meet you," We know you're going to be smart, creative and friendly" or "Never be afraid to go after your dreams."
Photo Credits
PhotoObjects.net/PhotoObjects.net/Getty Images