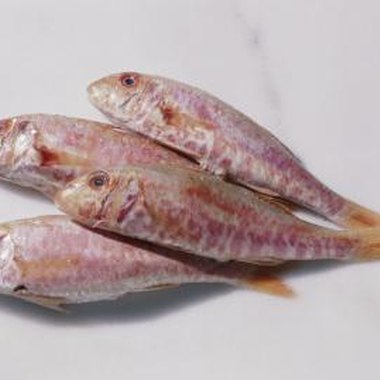 Fishermen who enjoy king mackerel are always looking for the next best baiting tip. One method that has become a classic, effective technique is the use of mullet. The small, energetic fish are naturally prey to many ocean creatures, including the king mackerel; related to the tuna, they display unparalleled speed and friskiness in the water. Large mullet are best when fishing for kings. Coupled with proper hooks, they can make for successful bait.
Items you will need
Smooth-drag reel

Medium-heavy rod

Dental floss

Net

Bucket

Two-prong rig

8/0 Mustad hook

2/0 hook

5/0 hook

#1 bronzed trebel

#4 bronzed trebel

Egg weight

#3 wire

40# barrel swivel

20-pound mono leader
Step

1
Cast a net near the shore, or on shallow water with sand or brown sediment at the bottom, to land them. Once caught, keep your mullet living by placing them in a bucket of clean, aerated water. Place the bucket in the open water, whose currents will also sustain the mullet. Preserve them like this until you are ready to bait your line.
Step

2
Split the mullet open, remove the bones, and hook a weight in the area below the fish's mouth as a rig. Then sew the mullet's body together again using dental floss. An 8/0 Mustad hook should be hooked through the mullet at the base of its tail and again through the stomach. Use a dead-bait fly-line, which uses a #3 wire and a 40-pound barrel swivel with a No. 4 or No. 1 bronzed treble hook. Attach an egg weight in heavy currents.
Step

3
Feed a #3 wire through a live mullet's mouth through to its tail. Hook a two-pronged rig through the mullet's mouth at the base of this wire. Use a live-bait fly-line, which features #3 wire and 40-pound barrel swivel with a 2/0 or 5/0 hook.
Step

4
Use 20-pound line and tackle when pursuing king mackerel, as the very minimum. Should you concentrate on landing large-sized kings, upgrade your equipment to an even higher poundage. The best equipment features either mono leader or heavy wire, tough enough to withstand the formidable king mackerel bite. Medium-heavy rods with high graphite content and soft tips, like Penn Slammers or Big Water Ugly Sticks, are best for handling heavy mackerel. Seasoned fishermen also advise the use of reels with a smooth drag that also have at least 200 yards of 20-pound mono leader.
Photo Credits
Eising/Photodisc/Getty Images