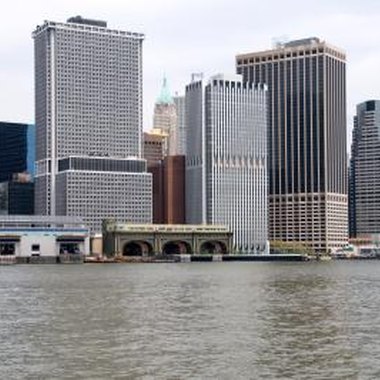 Whether you're looking to indulge all of your senses with some deluxe pampering, celebrate a milestone occasion or just imagine for a weekend getaway how the other half lives year-round, New York has no shortage of upscale hotels to satisfy your craving for a memorable experience. Their decor and posh amenities are matched only by the attentive staff service, breathtaking views, and proximity to the Big Apple's most popular attractions and shopping venues.
Uptown Hotels
Trump International Hotel and Tower is a Forbes Five-Star address featuring an indoor pool, spa and fitness center, and a 24/7 personal attache service to accommodate your every need. Guest accommodations range from single rooms to three-bedroom suites with fully stocked kitchens, Jacuzzis, 55-inch flat-screen TVs, and floor-to-ceiling windows. Wood-burning fireplaces, kitchens, Bulgari bathroom amenities, and complimentary beverages upon arrival are among the popular draws for a stay at The Lowell. Accommodations range from a deluxe king to a three-bedroom penthouse. Free Wi-Fi, daily newspapers and shoeshines are included. The Lucerne dates from 1904 and is within easy walking distance of Central Park, the shops at Columbus Circle, and numerous restaurants and museums. A spa, high-tech fitness center, 24-hour room service, free Wi-Fi, and a 15 percent discount on breakfast at its on-site restaurant are among the guest amenities.
Midtown Hotels
The London is a posh oasis in the heart of Manhattan and features over 500 glam suites, oversized showers, mood lighting, a business center, 24/7 health club and concierge service. Its Gordon Ramsay restaurant and The London Bar are ideal for meeting friends before and after a night at the theater or on the town. Jumeirah Essex House has been a NYC icon since the early 1930's and has been recognized by the National Trust Historic Hotels of America. In addition to a fitness center, all-natural spa treatments and steam rooms, and full-service business center, Essex guests are within easy walking distance of Broadway shows and shops, Central Park, and local galleries and museums. At the Four Seasons, guests enjoy free Wi-Fi, daily newspapers, twice-daily maid service, a fitness facility, and a program for young family members that includes bathrobes, children's menus, coloring books, games and the complimentary use of baby equipment.
Legendary Hotels
The venerable Hotel Chelsea dates from 1883 and has been "home" to such notables as Bob Dylan, Dylan Thomas, Arthur C. Clarke, and Allen Ginsberg. Fireplaces, kitchenettes, parlor suites and work desks are among the amenities along with private tours of its unique architecture. For over a century, many a debutante has been officially introduced to society at the Waldorf Astoria. In addition to a ballroom that features its own Broadway stage, this hotel has a 2,500 square foot fitness center, multilingual concierge staff, and three upscale restaurants. Appropriate attire is required in public areas of the hotel. The St. Regis Hotel is a Starwood property near the theater district and premier shopping. Among the signature amenities are its 24/7 butler service, customized spa treatments, state-of-the-art fitness center and steam room, 24 hour security, a full-service business center, and accommodations that range from 430 square feet to over 3,000. The Plaza has been synonymous with NYC luxury for over a century. Its Palm Court, Champagne Bar and Oak Room are elegant dining venues frequented by celebrities, and special package deals for romantics, families and gal pal getaways include New Year's Eve, Live Like Eloise, and Sex and the City.
Times Square
The Westin New York is in the heart of Times Square and Broadway and even has its own theater concierge to arrange for show tickets and transportation. If you're bringing daughters who love American Girl, check out Westin's special package that includes an American Girl gift bag, doll bed and welcome letter to American Girl Place. The hotel's on-site spa and gym are ideal for spending downtime between sightseeing and shopping excursions, and its Shula's Steakhouse offers a sumptuous brunch on both Saturday and Sunday. The Millennium Broadway Hotel is where you'll find the Hudson Theatre, a magnificent playhouse built by a producer who perished aboard the Titanic but whose wife, a lifeboat survivor, became NYC's first female theatrical producer. The hotel offers numerous package deals for those who love shopping, sightseeing, romance and theater as well as over 100,000 square feet of conference facilities and a 24/7 fitness center.
References
"New York (Eyewitness Travel Guides)"; Eleanor Berman, Annelise Sorensen, Ian O'Leary; 2006
Photo Credits
Jupiterimages/Photos.com/Getty Images