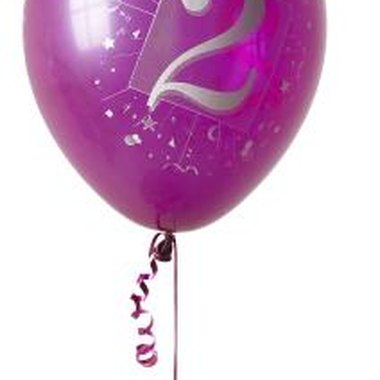 When planning a second birthday party for your toddler, choose your invitations and wording to reflect your theme. All birthday party invitations should include the date of the event, the time and location. Many invites also include R.S.V.P information and other relevant tid-bits such as the age of the honoree. Creative wording announcing your toddler's birthday adds a personal touch to you invitations.
Rhymes
Invitations that have rhyming text are catchy and appealing. Since many words rhyme with two, finding a rhyme you like for your invitation should be rather easy. Some ideas that can be used for just about any second birthday is "Max is having a party 'cause he's turning two, and we are saving a spot especially for you!" and "We can hardly believe it's true, our little boy/girl is turning two!". If you'd like to use a rhyme other than one using the the word two, try something like: "Join in the hoopla, join in the fun, join us at the best second birthday under the sun!".
Your Child's Name
If you want to include your baby's name in a clever way in the invitation wording, consider ideas like: "Peek-A-Boo, Guess who's Two? Britanny that's who!" or "Choo Choo! Ben is turning two!". If you are inviting other toddlers to come and play, you could say "Allison would like you to come and play, because she's turning two today" or "Jeffrey Paul is turning two, we are having a party and we need you!".
Specific Location
If you are having your party somewhere special like the beach or the zoo, include it in your wording using some of these fun ideas: "Nick Smith is turning two, and he'd like you to join him at the zoo!" or "Splish, Splash, We are having a blast. Sawyer's second birthday is here at last!". For parties at the park or an entertainment center for toddlers you could say "Come tumble and roll and jump and play, and help us celebrate Alex's second birthday."
Specific Date
If you'd like to include the date in a catchy way, use wording ideas that state the date in the text. Some ideas include "Sunday, June 19 is the day, we are gathering to celebrate in a very big way- Matt's Second birthday!" or "Saturday July 13- you shouldn't miss this one, Abby's second birthday is sure to be fun!". If you don't want to include the specific date in your wording, you could list it underneath the text with other details such as the time and place. In that case, you could reference the season using an idea like this one: "Spring has sprung and bees are humming, Zack is two, and we hope you're coming!"
Photo Credits
Hemera Technologies/PhotoObjects.net/Getty Images