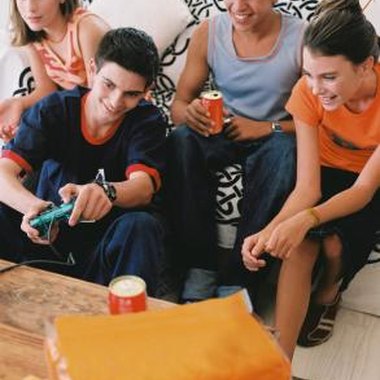 If you're tired of the same old birthday pizza party at home or at the skating rink, try something different this year. In addition to providing a refreshing change of pace and scenery for party guests, you'll give your 13-year-old a new experience and wonderful memories for years to come. Don't be afraid to go somewhere out of the ordinary for the party -- the more interesting your venue, the more the guests will be clamoring to attend.
Natural Settings
Head to an orchard for the birthday party and spend the afternoon picking apples or berries. Pack a birthday picnic basket for each guest, including a cupcake, gourmet sandwich and chips with dip. Spread a few blankets and enjoy the bucolic surroundings. Or, rent a campsite and give your 13-year-old an overnight party. Bring along marshmallows, snacks, a cooler with drinks and tents with sleeping bags. Play music and tell ghost stories. Arrive in the afternoon and have a local guide lead the party on a nature hike.
Behind the Scenes
Give your teen and his friends a sneak peek at the way some of their favorite things are made. For example, take the party to a chocolate or crayon factory. Go on a private tour, enjoy gift bags at the end and follow with a decadent dinner out. Or, hold the party at an outdoor concert. Have a birthday picnic on the grass and secure a backstage pass for each guest to meet the musicians. You could also take your teen and his guests to a professional baseball game. Rent a skybox for the party and get dugout passes for after the game so guests can meet the players and get a tour of the facilities.
Creative Venues
If your teen has a sweet tooth, rent a whole ice cream parlor for the party. The shop can supply the ice cream and toppings. Guests can make their own cool creations and enjoy as much as they like. Or, take the party to a pottery or ceramics shop. Serve finger foods and punch for the guests while they experience a short tutorial, then make their own clay or ceramic artwork. You could also send the guests to a restaurant kitchen for the party. Retain the services of an executive chef to teach guests all about cooking and help them prepare a culinary masterpiece.
Live Entertainment
Reserve a section of tables at a comedy club (check that guest parents are comfortable with the performing comedian) and let your teen enjoy a sophisticated, hilarious birthday party. Or, hold the party at an aquarium where the guests can touch dolphins, sting rays and even small sharks. If your teen is an animal lover, head to the zoo for the party. Many zoos have party pavilions and offer all-inclusive party packages. You could also take the party to see a magician or live theater production, followed by a posh dinner out to complete the glitzy evening.
Photo Credits
Stockbyte/Stockbyte/Getty Images