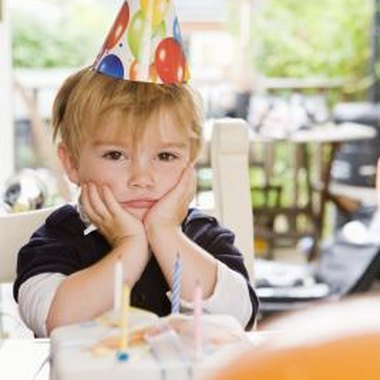 Not every child feels comfortable celebrating his or her birthday with a big party. Excess activity and noise can create stress in children with certain medical or psychological conditions. Other children simply prefer smaller groups to larger ones. You can make your child feel special on his or her big day without a boisterous party. Your celebration could include a best friend, the entire family or maybe just the two of you.
Birthday Video
Birthday parties are soon forgotten, especially by young children. Create memories your child can keep forever by making him or her the star of a movie once a year. Ask a relative or close friend to be your videographer so you can focus your attention on the birthday boy or girl rather than the technical details. Begin the day by having family members enter the child's room with a heartfelt if not necessarily on-key rendition of "Happy Birthday." Then, make the remainder of his or her day super fun by doing favorite things, preparing favorite meals and, of course, opening gifts and enjoying birthday cake. Be sure to capture all these special moments on film. Both you and your child will get many hours of enjoyment from this lifetime keepsake.
Big-Time Entertainment
No matter the reason you've elected to forgo a big party, your child can still enjoy the entertainment that often accompanies such gatherings. Magicians and clowns perform for any size audience, and your child will feel that much more special being the guest of honor. Fewer kids in an inflatable "bouncy house" castle means less chance for tears or injuries. Unless your child doesn't like them, don't forget to include balloons as part of the fun. Balloons seem to make everything more festive.
Dream Destinations
Plan a family vacation around your child's birthday wishes. Visit an amusement park, go to the beach or take a camping trip, for example. Make it somewhere your child has been begging to visit. You could celebrate your teen's birthday by surprising them with a day of rock-climbing or white-water rafting (under strict professional supervision, of course.) The destinations don't have to be extravagant. Toned-down local destinations can be tremendous fun for most kids, like a visit to a favorite restaurant, the zoo or a local water park.
King or Queen for a Day
Present your child with a birthday crown that allows them royal command of the day. You and other family members can act as attendants in the royal court. In other words, the birthday child selects the day's menus and activities, right down to what everyone gets to watch on television. It might mean hot dogs for breakfast and video games all afternoon, but everyone should cooperate with a smile. You may want to set some ground rules so your youngster doesn't get too bossy. You probably won't mind cleaning a messy bedroom when the King or Queen demands it, but it's unlikely you'll purchase a pony.
Photo Credits
Jupiterimages/BananaStock/Getty Images