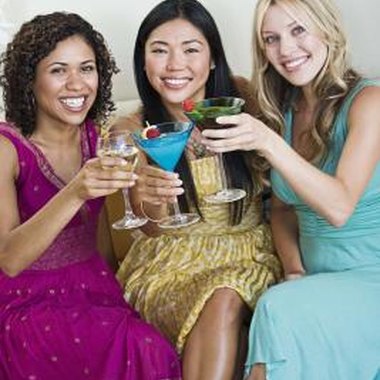 Dallas, Texas, known to locals as the "Big D," is a large metropolis in Northeast Texas. The city offers several unique locations to celebrate turning 21, which is not only the legal drinking age but also marks a person's entry into adulthood. Dallas venues include party spaces, zany bars, bowling and an arcade.
Bars
After 10 p.m., the Blue Lounge, which sits atop the Magic Time Machine restaurant (magictimemachine.com) in Dallas, is for "Adults Only" and offers a unique atmosphere for 21-year-olds who wish to exercise their new liberty. Karaoke is offered in private booths. The staff are dressed in zany costumes, ranging from entertainers to fictional characters. Food buffets and live music can be arranged for parties. In the Dallas suburb of Addison, Pete's Dueling Piano Bar (petesduelingpianobar.com) has two pianists who interact with the audience while covering popular songs from all eras. Customers are encouraged to sing, request songs and have a great time. You can rent the room for parties and have the entertainers play just for you.
Party Spaces
Party Off the Grid (partyoffthegrid.com) is the former location of the Dallas Power and Light substation. Now it offers three floors of party space. Gillie's Dallas (gilleysdallas.com) has a party space on its roof called the Loft. The Loft has a kitchen, two bars and space for 400 guests. A stage is available for live performances. The Dallas skyline will be clearly in view while guests enjoy food and drink.
Arcade
Dave and Buster's (daveandbusters.com) offers game packages for party-goers with a love for skee-ball and video games. Pool, darts and other billiard games are offered as well. Dave and Buster's has a bar and serves food; it offers the services of an event planner to help you plan your party menu. After 10 p.m., no person under 21 is allowed in the arcade.
Adult Bowling
USA Bowl (usabowlindallas.com) offers "neon nights" on Fridays and Saturdays, starting at 8:30 p.m. You can reserve lanes ahead of time for birthday parties. A bar lounge is located on site for individuals old enough to consume alcohol. An executive chef is on staff at USA Bowl for catered events. 300 Dallas (threehundred.com) offers adult birthday party packages. Birthday party groups can reserve a private bowling suite with lane-side food service or buffets with the option of an open bar.
Resources
Photo Credits
Jupiterimages/Brand X Pictures/Getty Images