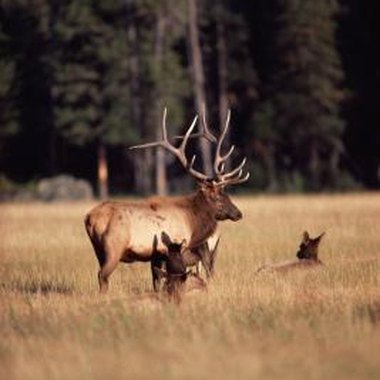 Elk, a majestic animal, usually weigh between 700 and 1,000 pounds and are a prime prize during Colorado's hunting season. While female cows never grow antlers, male bulls have their full rack that time of year. Elk hunting in Colorado is the premier extreme sport, taxing you both physically and mentally. Although there are countless guides available for hire, many hunters challenge themselves and hunt without a guide.
Plan Your Hunt
When, how and where you hunt in Colorado, depends on if you are an archery hunter, muzzleloader or rifleman. Archery season runs for a month, usually beginning the last weekend in August. Muzzleloaders share the middle week of September with archers, while rifle hunters choose between four different seasons. Colorado divides elk hunting areas into specific units called Game Management Units (GMUs). Choose the area and season that best fits your style of hunting, whether it be to obtain a trophy bull or acquire enough meat to feed your family.
License Requirements
Colorado requires completion of the Hunter Safety Program, and purchase of both a big game license and a Habitat Stamp to hunt elk. Licenses can be purchased through the spring lottery system, by phone, online or over-the-counter depending on the season. Since Colorado limits the number of licenses in specific areas or if you wish to purchase a cow license, you must participate in the spring draw. If your first pick is not chosen in the spring, you are notified in June with choices for leftover licenses. Everyone is able to purchase a bull elk license over-the-counter beginning in August.
Set Up Camp
Whether you bring your RV or rough it in a tent, determine your camp spot prior to arriving. Choose to camp either on public land or in local campgrounds. Plan to arrive a day or two before the season starts, giving you adequate time to set up camp. Come prepared for cold weather including snow, as well as for mild temperatures during the day. Bring catalytic heaters for sleeping and a wood-burning stove for cooking when staying in a tent. Prepare meals at home and plan on reheating at the end of the day. Pack your lunches and bring plenty of snacks and water for the trails.
The Hunt
Popular areas put more pressure on elk populations, so discovering areas with the least number of hunters grants you a tremendous advantage. Allow a few days to acclimate to the high altitude if you live at a lower elevation. The best times to spot elk are early morning just after sunrise and right before sunset. Station yourself at the edge of a meadow, which provides ample food for elk. During the day, hike through wooded areas since elk like to bed down in trees. Take advantage of the wind and walk against it, so elk cannot pick up your scent. Fresh snow is actually an asset because elk cannot hear the crackling of twigs underneath your boots and serves as a great tracking device. Look for elk sign (droppings) along the trail. Use elk calls during rutting season. Plan ahead how you will get the meat back to camp. If you do not have a pack animal available, quarter the elk and carry it out.
Photo Credits
Jupiterimages/Photos.com/Getty Images