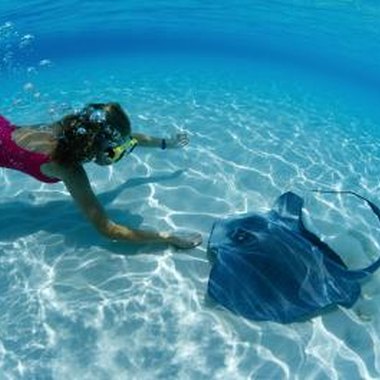 An under-the-sea party can get off to a swimmingly fine start with invitation wording that matches the theme. To get the full effect of an under-the-sea themed party, the invitation should contain related wording, as well as related imagery. Blue is an appropriate background color and you can decorate the background with bubbles, sea life and other under-the-sea images, based on the type of wording you choose.
Basics
Setting up the invitation's categories with the sea theme is another way to incorporate fun wording. Instead of the typical time, date, place headings, substitute categories with, "Sailing Time," "Fishing Time," "Dock Number" or "Ocean Coordinates." Although you want the date and location to be easily understood, you can add fun asides to the information. An address of 1234 Maple Lane, for instance, could include additional details such as, "The house where the big fish lives," or "Where crabs are banned from entry."
Sea Life
Sea life is front and center under the sea, and playing with words and types of sea life makes for a fun invitation: "I'll clap like a seal if you come to my under-the-sea party." "I'm fishing for guests for my party. Will you please bite?" "Starfish aren't as bright as your presence would be at my under-the-sea bash." "Can I hook you into coming to my under-the-sea party?"
Treasure
The sea is rich with sunken treasure and shipwrecks, and playing up those aspects makes for creative invitation wording: "Your presence is what I'll treasure at my under-the-sea party." "If you don't come to my party, I'll feel like a decrepit shipwreck." "All the sunken treasure in the ocean would not be as fine as seeing you at my party."
Pirates
Pirates are notorious for being sea creatures, and pirate speak makes for an amusing under- the-sea invitation: "I be ne'er forgivin' ye if ye don't come to me under-the-sea party." "I see ye at the party or I's be comin' to ye house and kidnappin' ye." "It's time ye surrender ye booty and bring me mine gifts to my under- the-sea party."
Photo Credits
Brand X Pictures/Brand X Pictures/Getty Images