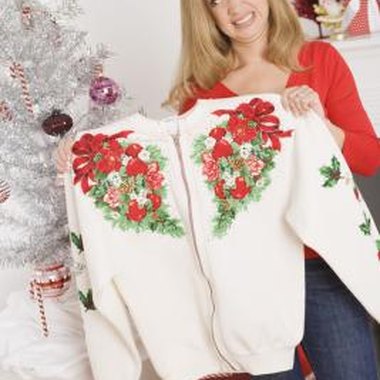 Ugly sweater parties are a phenomenon that may have begun in the mid-1990s. These social gatherings celebrate the most gaudily decorated sweaters, most often based on a Christmas or winter theme. Ugly sweater parties generally include food, drink and friends. The ultimate moment of the party comes at the end of the judging when everyone has voted on the ugliest sweater worn to the party. The winner of the ugly sweater competition typically receives a prize. Prizes may vary from an innovative trophy clothed in a sweater, to a gift certificate, to a pair of even more ugly embellished Christmas socks.
Sweater Requirements
The ugly sweater party may or may not require that a holiday sweater be worn. Any highly embellished sweater may be appropriate, and the more gaudy, the better. The point of the ugly sweater is to astonish with the level of embellishment. Sweaters or sweater vests are generally required for entrance to the party with the anticipation of competition for the title of ugliest sweater present. If you do not have an ugly sweater, some parties provide rentals, while other parties will direct you to a local thrift store or an Ugly Sweater Store for a wide selection.
Purposes
Some ugly sweater parties are simply gatherings of friends to celebrate and show off their best and brightest gifts from holidays past. Other ugly sweater parties, such as the annual Kansas City, Missouri, Ugly Sweater Party are actually held as fundraisers. Items are raffled, tickets are sold, other items are auctioned, and sweaters may be rented to sweaterless partygoers. The efforts of this party are directed to have fun and to raise funds for a local children's charity.
Formal Alternative
For those who do not particularly enjoy donning fancy holiday dresses and suits, an ugly sweater party may be much more enjoyable. Laughter and joking may prevail as everyone compares their sweaters and no one has to worry about spilling food or drink on expensive clothing. Hosting the ugly sweater party can be fun as well, as formal decor is not required. Tacky is the theme, and aluminum Christmas trees and other less-than-beautiful decor is welcome at these events.
Entertainment Simplified
Ilana Eck recommends taking the ugly sweater party to the next level by providing a photo booth, fun holiday music and easy finger-food menu items to complete the theme. She suggests adding gag gifts and retro drinks to the party to keep it lively. Prizes may be awarded for the ugliest sweater as well as other off-the-wall competitions such as ugliest hat or scarf, or best gag gift. Keep the prizes fun and in keeping with the theme.
Photo Credits
Jupiterimages/Comstock/Getty Images