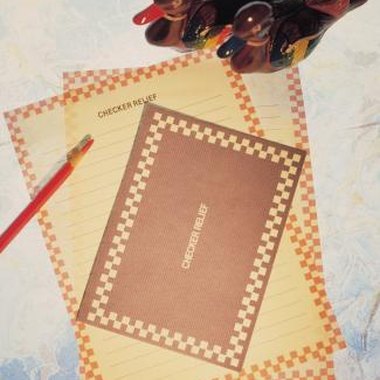 An invitation letter sets the tone for an event and provides the basic information that invitees need to decide whether or not they can or want to attend. The type of invitation letter you send depends on the type of event. Letters inviting people to a corporate seminar, for instance, have a distinctly different format and flavor than those you send to invite people to a personal or social event, such as a backyard barbecue.
Business Events
The business invitation letter is used to invite clients to a business-related event. It can be a super sale on the business's services or products, an open house for a new office or store or any other event that involves the business. An interoffice business invitation letter is used to invite employees to a business-oriented happening, such as the annual office party or a corporate management seminar. Business event invitation letters follow the same format as other business letters, with a formal salutation, body of the letter explaining the missive's intent and a formal closing.
Social Events
Although preprinted invitation cards are readily available for social events, an invitation letter can be included to further personalize the invite. Social events can be formal gatherings, such as weddings, catered parties and black tie dinners, or they can be casual affairs, such as a backyard birthday bash or a barbecue. Other social events include gallery openings and art shows, concerts and performances, and personal events such as an intimate birthday party, bridal shower or seasonal and holiday celebrations. The format should follow that of other personal letters and the wording should express the personal nature of the invitation. Rather than the formal business greeting, feel free to start the letter as you would to a personal friend, using a more personal salutation. Include a reason why you'd love for the guest/s to be there.
Other
Other types of invitation letters include those that invite someone to speak at an engagement or accept employment or another type of offer. Such invitations should include all the basics of the offer: start date, payment rendered and anything else necessary for the invitee to make an informed decision on his response. It should also outline how to respond and the response deadline.
Electronic Invitations
Electronic invitations, such as those you send via email, adhere to the letter format that suits the event, either a formal business letter or personal letter style. Begin the electronic greeting with the appropriate salutation, followed by the body of the letter and closing. Benefits of emailing invitations include saving on postage and printing costs, the ability to send out large amounts of invitations at once, getting immediate RSVPs by recipients and including links in your electronic invite to directions of other details. Drawbacks include your message being inadvertently sent to the recipient's spam folder. Following up with a phone call might be necessary to ensure the recipients received your invitation letter.
Basics and RSVP
Every invitation letter should outline the basics, including what the invitation is for, when and where the event is being held and the general gist of the event. Additional helpful information includes directions to the event, the attire and how many guests, if any, the invitation recipient can bring to the event. Invitation letters that require an RSVP from the recipient should make it clear you're expecting a response.They should also note how a person should respond, either by email, phone or an enclosed postcard and the response deadline and contact information where you can be reached. If you're expecting a response by postcard, including a self-addressed, stamped postcard or small envelope helps ensure a response.
Photo Credits
Jupiterimages/Photos.com/Getty Images