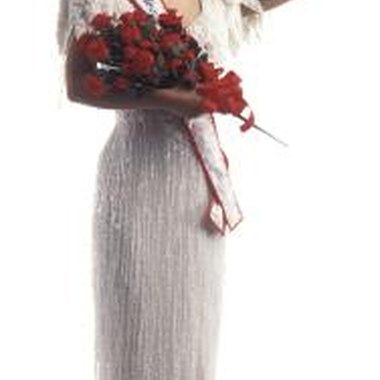 Many a little girl has watched beauty pageants like "Miss America" on television and dreamed of donning a flowing gown and tiara herself. In actuality, there are plenty of opportunities to make this fantasy a reality for girls and women of all ages. Pageants exist for little ones barely out of diapers and women in their golden years, showcasing beauty, talent and a commitment to doing good.
Children's Beauty Pageants
Even little kids can compete in beauty pageants, which range from casual events where all participants receive a prize to intense competitions. The expense of entering beauty pageants for children, which include toddlers and big kids alike, is often considerable. According to ABC News, the average pageant dress costs roughly $1,000. Some children also undergo extensive makeovers for pageants, dying their hair and wearing caps over missing teeth. However, money from pageant winnings can be put toward college, creating a nest egg for a child's education.
Teen Pageants
Teen pageants run the gamut from small, local competitions to statewide and national events. Some corporations and businesses also sponsor teen pageants to choose queens as company representatives. Winners of some teen pageants may have the opportunity to compete at the international level as well, like at the Miss Teen Galaxy Pageant. Most teen pageants judge contestants on several factors, including talent, appearance in gowns and bathing suits and their interviews with judges.
Married Womens' Pageants
Contrary to popular belief, you don't have to be single to enter a beauty pageant; there are special competitions just for married women. Such pageants have similarities to those for singletons, but like the Mrs. United States Pageant, seek to demonstrate "respect and admiration for married women of beauty and intelligence." Women compete in categories, like evening wear. Interviews and pageants range from local and statewide events to international competitions.
Senior Citizen Pageants
Though many pageants center around young contestants, there are also pageants for older women who still have talent and good looks to spare. The Miss Senior America Pageant features ball gowns and talent competitions, but strives to "promote the dignity and value of America's seniors," according to its official website. Miss Senior Sweetheart is open to contestants older than 58. Contestants perform at nursing homes as part of the competition, which also includes a talent portion and a ballgown walk.
Photo Credits
Photodisc/Photodisc/Getty Images