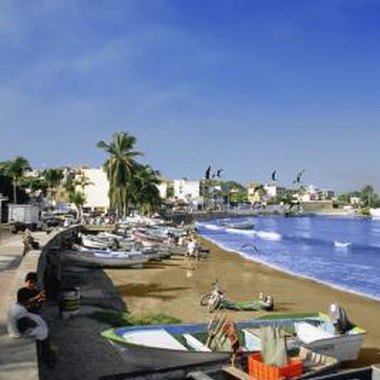 Mazatlan, a cruise port that was often featured on the "Love Boat" television show, is in the state of Sinaloa within Mexico. It features miles of beaches along the Pacific Ocean, with an array of watersports as well as land activities such as golf, tennis and even zip-lining. Mazatlan has many resorts and hotels within the cities Old District, Golden Zone and Emerald Bay. If you are looking for something low budget, you will find some good two-star options. All of these hotels have air conditioning and cable television.
Hotel Fiesta Inn
The Fiesta Inn is on the beach, but in the Northern end near the Marina. Although the Fiesta Inn only has 62 rooms, you will still find a restaurant, pool and business center with Internet access at this hotel. Beach chairs are available at the Fiesta Inn. The hotel does not have its own waters ports center, but a recreation desk is available to help you make arrangements for activities such as scuba diving or windsurfing.
Azteca Inn Hotel
The Azteca Inn Hotel is in the middle of the Golden Zone near the restaurants, bars, shopping and larger hotels. It is located about a block from the beach, with 74 rooms that have either one king or two double beds and free wireless Internet. The Azteca Inn Hotel has a pool and Jacuzzi, as well as a restaurant that provides room service. You won't find safes in the room, but there are safety deposit boxes in the office.
Hotel Acuario
Hotel Acuario is on the Malecon, the area that stretches from the Old District to the Golden Zone. The hotel is right in front of the beach and has 42 rooms. In addition to the beach access, a pool is on the premises for guests. The Hotel Acuario does not have Internet access, and although there are many restaurants nearby, there is not one onsite.
Considerations
Mazatlan has many hotels in all shapes and sizes. A two-star rating for a hotel doesn't mean that there are necessarily problems at the hotel. A hotel's rating can be low just because it lacks a lot of amenities, is far from the beach or has small rooms. Before deciding on whether to stay at a hotel in this category, read reviews and ask questions about what is important to you -- such as whether the hotel has air conditioning -- so you know the reasons for the rating.
References
Hotel Acuario, Av. Del Mar No. 1196, Mazatlan, Sinaloa, Mexico
Photo Credits
Medioimages/Photodisc/Photodisc/Getty Images