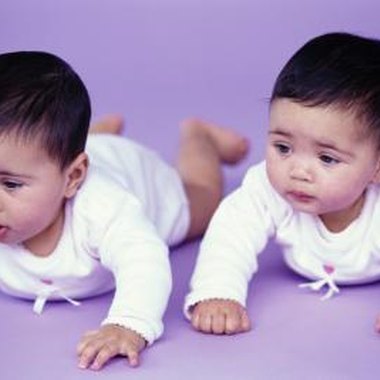 Your bundles of joy will enjoy the milestone of a first birthday this year, so you'll want to send an invitation to guests that expresses your excitement and both of your twins' budding personalities. Decorative invitations with catchy phrases will let guests know how enjoyable the party will be and can provide a preview of the twins' party theme.
Themed Wording
Word the invitations based on the theme you've chosen for your twins' birthday party to give guests an idea of the decorations and food they can expect to see at the celebration. For instance, a Noah's Ark-themed invitation would sound something like "(twins' names) came two by two -- join the birthday fun, and bring a friend with you!" If you've chosen a food theme for the twins' birthday celebration, an opening phrase like "Orange" you glad you got an invite to (twins' names) birthday celebration? These two peas in a pod can't wait to party with you!"
"Milestone" Wording
Showcase some of the things your babies have accomplished during their first year of life in the birthday invitation. Start the document out with "We've learned to crawl, then walk, then run. Come party with us -- we're turning 1!" Or, create an invitation with a backdrop of your children taking their first steps or feeding themselves and use wording like "Look at all the things we've learned to do -- now we can't wait to celebrate with you!"
Sentimental Invitations
Use the ultrasound picture of your twins as the backdrop for the invitation and begin the invitation with "These pictures represent a memory we'll cherish forever. Come join us as we celebrate (twins' names) first birthday, take more pictures, and make new memories." Or, create an invitation that features the picture taken of the look of shock and excitement you and your partner had when you found out you were having twins. Include wording like "We were shocked to find out that (twins' names) were on their way -- and we're just as surprised that they're turning 1!"
Alliteration Invitations
If you've given your twins the same first initial, use alliteration on the invitations to make the documents more appealing. For instance, for twins whose names begin with F, begin with invitation with "(twin name) and (twin name) invite you to a fascinating affair filled with food and fun. Come frolic and feast with us -- we're turning 1!" Or, for twins who have A as their first initial -- "(twin name) and (twin name) anticipate your arrival at their awesome birthday affair -- can't wait to see you there!"
Photo Credits
Stockbyte/Stockbyte/Getty Images