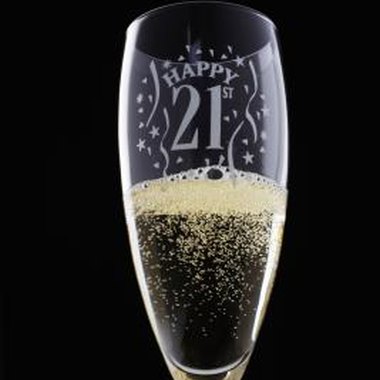 The 21st birthday party should be one of the most memorable birthday celebrations ever, filled with all the guest of honor's favorite things. This milestone birthday marks the beginning of adulthood, so an especially sophisticated event is in order. Turning 21 also is associated with being able to drink legally, so including a few beverages that fit your loved one's style will help to make the occasion more celebratory as well.
Theme Party
Invite friends to a masquerade ball and encourage guesst to find a decorative way to feature the number 21 on their masks. Or, host a party to celebrate the decade when the guest of honor was born. For example, when celebrating someone born in 1990, tell the guests to come dressed in clothing from the era, like over-sized flannel shirts to represent "grunge" style, or baggy jeans and overalls that are reminiscent of 1990s hip-hop fashion. Or, hire a bartender for the event to create a signature drink just for the guest of honor. For instance, if she loves chocolate, ask the bartender to create a chocolate cherry martini and name it after the birthday girl.
Dinner Party
Organize a 21st birthday dinner at home featuring grown-up versions of the meal items the guest of honor enjoyed as a child. For instance, three-cheese paninis with portabello mushrooms and tomato chipotle bisque is a more sophisticated take on grilled cheese sandwiches and tomato soup. For a larger celebration, reserve a banquet hall and hire a jazz quartet to play easy-listening versions of the guest of honor's favorite songs. Get together with your friends and loved ones to put together a list of 21 things you love about the birthday girl; type and enlarge the list, then frame it and display it at the door of the party.
Club or Lounge Party
Organize a 21st birthday party at the city's hottest spot for nightlife. Ask the disc jockey to play your loved one's favorite songs, and reserve a VIP table where he can enjoy his cake and a dessert wine bottled 21 years ago. Plan an event for before the club, like watching a game at a sports bar, or head to a late-night breakfast after the club festivities. If the guest of honor prefers a more mellow celebration, go to a jazz lounge where the group can enjoy drinks and relaxing music. Present your loved one with her gifts and birthday cupcakes in the flavor of an alcoholic beverage like a margarita or pina colada.
Beauty Party
Give a rather sophisticated 21-year-old who loves to be pampered a party at a local luxury spa. Decorate the spa in balloons that say "Happy 21st Birthday" or with an ice sculpture or birthday cake shaped like the number 21. Encourage her to get a new haircut or color as her "initiation" into adulthood. Or, hire massage therapists and manicurists to come to the guest of honor's home for a small pampering party of 21 guests. Present your loved one with gifts like a plush robe and slippers embroidered with her initials and birthday so she'll always remember the occasion, and create a signature fruity or fizzy drink for everyone to enjoy.
Photo Credits
Martin Poole/Photodisc/Getty Images