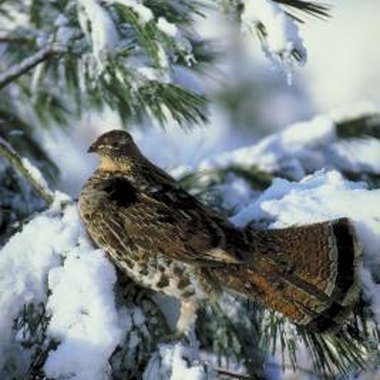 The Tuscarora Mountain Range, located mainly in Pennsylvania's Franklin County, offers visitors a range of outdoor activities. Beginning in the north at Millerstown, the range runs south to the Juniata River. Within the Tuscarora Mountains you can learn the history of the range, view wildlife, climb the highest point, or drive through some long tunnels.
History and Geology
The Tuscarora Mountains are part of the Appalachian Mountains that formed more than 400 million years ago when two of the Earth's plates met and pushed up sedimentary and volcanic rock. In 1714 the Iroquois adopted the Tuscarora tribe, which had migrated from North Carolina. The mountain range is named after that tribe.
Wildlife
The Tuscarora Mountains abound with plants and animals. If you don't want to get out for a hike, you can enjoy the colors as deciduous trees such as maples and birch change color in the fall. Wandering the trails you might see whitetail deer, black bears, coyote, grouse and turkeys that run wild in the range.
Outdoor Pursuits
The Tuscarora Mountains includes 252 miles portion of the 2,175-mile long Appalachian Trail. When visiting, you can hike as much or as little of this trail as you like. The Pennsylvania and federal parks in the range also maintain shorter interpretive trails suited for less-experienced hikers. Those who love to climb can tackle the highest peak in the range: Big Mountain, 2,454 feet above sea level.
Tunnels
Rather than hike over the mountains, you can drive straight through them. Tuscarora Mountain Tunnel measures 5,326 feet long, the second-longest tunnel along the Pennsylvania Turnpike. There are actually two tubes. One was built in the 1960s, but the other tunnel -- begun in 1885 -- is one of four remaining original tunnels of the turnpike. The tunnels are on Interstate 76.
Photo Credits
Jupiterimages/Photos.com/Getty Images