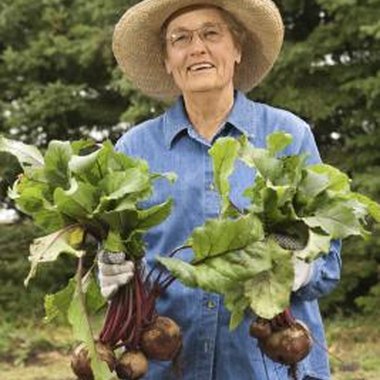 Cape Cod, nestled along the Massachusetts coast, is full of unique attractions that draw visitors from throughout the Northeast. The Turnip Festival in Eastham, midway up the cape's peninsula, is an annual event that celebrates one of the nation's most underrated roots, the turnip. The Eastham turnip, which has been farmed to perfection over the past century, is the star of the festival, appearing in everything from pies to poems.
The Festival
During the festival, put on by the Friends of the Eastham Library, festival-goers pay homage to the infamous Eastham turnip through a turnip cook-off, turnip bowling, a turnip-shucking contest, the annual crowning of the Turnip Queen and more. There is live music, performed by the Turnip Festival's house band, and participants are encouraged to submit and sing songs they have written to honor the town's turnip. Since 2005, the Turnip Festival in Eastham has been held the weekend before Thanksgiving.
The Eastham Turnip
Although the exact origin of the Eastham turnip is unknown, many speculate about the roots of this famous root. Some say it was imported from Scotland over a century ago. Others say it is not actually a turnip but a rutabaga. No matter its origin, the Eastham turnip has become the crowning crop of Eastham due to its uncommonly large size -- an average turnip weighs 8 lbs. -- and sweet flavor. The Eastham turnip is white and develops a deep purple crown as it matures.
Art Nick, the Turnip Man
Even though the origin of the Eastham Turnip is debated, there is no question who receives credit for farming it to perfection. Arthur Nickerson of Eastham, known by friends and family as Art Nick, the Turnip Man, is credited with introducing the Eastham turnip into the area. Nickerson began farming in Eastham at the early age of 12, focusing on what he knew: turnips, asparagus and melon. Although he has since passed, Nickerson is fondly remembered each at the festival as the father of the Eastham turnip.
Other Cape Festivals
Cape Cod celebrates more than just turnips as fall seems to be the region's season of festivals. The Harwich Cranberry Festival, the Bourne Scallop Festival and the Cape Cod Oyster Festival are just a few of the area's many festivals that invite friends and families of the cape to join in the celebration. These festivals supply festival-goers with fresh food, good entertainment, exciting carnival rides and an all-around fun time. Find out more about Cape Cod's many festivals by contacting the Cape Cod Chamber of Commerce, or visiting its website (see Resources).
Resources
Photo Credits
Jupiterimages/Comstock/Getty Images