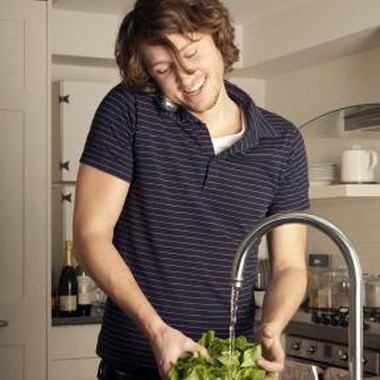 A "city within a city," Remerton, Georgia, is completely surrounded by the much larger city of Valdosta. The town is not far from Interstate 75 and about 30 miles from the Florida state line. Remerton is close to John W. Saunders Memorial Park, Valdosta State University and South Georgia Medical Center.
Items you will need
Rental contract, lease or proof of property ownership

Current driver's license

Cash, check or credit card
Step

1
Gather documents to prove that you reside where the water will be turned on. If you rent your home, the lease agreement or contract is sufficient to prove residency. If you own your home, a property tax bill or other utility agreement in your name for you address is sufficient. Make sure your driver's license is valid, even if it does not show your current address.
Step

2
Take the documents to Remerton City Hall at 1757 Poplar St. between 8 a.m. and 5 p.m. Monday through Friday. You must apply for water service in person. The water department is inside city hall, at the service window, where several other services such as zoning may be listed on the placard.
Step

3
Give the worker at the window your documentation and ask that the water be turned on at your address. Pay the deposit, which as of June 2011 was $86, in cash, with a check, or with a Visa or MasterCard debit or credit card. Be sure to get a receipt and a copy of the water service agreement for your records.
Tips & Warnings
Make the arrangements before 2 p.m. and the city will have your water turned on the same day. If you arrive after 2 p.m., the water will be turned on the next business day. Although as of June 2011, there is no online payment feature, but you can use your credit card to pay your bill over the telephone by calling the water department at 229-247-2320. Skip the long, pre-recorded announcement by pressing "1" on your touch-tone phone as soon as the announcement begins. As soon as the second announcement begins, press "1" again to reach a human being.

If you forget to pay your bill, workers place notices at your home. While you have a 10-day grace period to pay the water bill, late fees are assessed if you have not paid by 8 a.m. on the 16th of the month, or on the Monday following the 15th, when the 15th falls on a Friday, Saturday or Sunday. The fee is about 13 percent of the total water bill. If your water is cut off, you must bring the entire bill current, including late fees, and add a $30 reconnect fee.
Photo Credits
Joe Madeira/Stockbyte/Getty Images