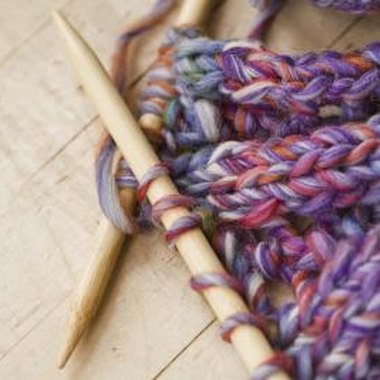 Expand your knitting knowledge by learning the tubular cast-on method. This provisional-type cast-on method allows you to create neatly finished borders suitable for hats, sleeves and sweaters, which are projects that call for flexible and stretchy ribbed edging. Although more time-consuming than other cast-on methods, learning about tubular cast-on is well worth the effort as it will give your projects a polished look.
Starting
You'll need waste yarn to create the folded tubular edge with invisible seaming that this cast-on technique provides. Knitters consider waste yarn as odd bits of yarn left over from past projects. Using waste yarn, cast on half the number of stitches the pattern you're using specifies. For simplicity's sake, choose yarn the same weight and a different color as the working yarn you'll use to complete your project. This helps to ensure your tension will remain even.
Setting up
Work several rows of stockinette stitch before ending on a knit row. Turn your work and join the working yarn by purling one row before continuing for at least three rows of stockinette stitch. Knit more rows when working with finer weight yarn. Finish on a knit row before picking up the stitches to create the tubular cast-on.
Picking Up
Turn your work and face the wrong side to take notice of the color change row. The top purl bumps were created by the waste yarn while the bottom bumps are from the working yarn. Purl one stitch on your left needle. Using your left needle, pick up the first bottom purl bump before knitting it. Continue this purl-knit pattern until you reach the end of the row. As you progress you'll be creating live stitches out of the bottom purl bumps by knitting them.
Finishing Cast-On
Once you reach the end of the row, count your stitches. You should have double the number of stitches you initially started. Continue knitting in the established single rib pattern with your working yarn for several rows before cutting the waste yarn. Cut across two to three rows below the newly created tubular edge, carefully avoiding cutting any working yarn stitches. To ensure you don't accidentally ruin your work, cut the waste yarn in a brightly lit room. Unravel the waste yarn to reveal your tubular stretchy edge.
Photo Credits
Jupiterimages/Polka Dot/Getty Images