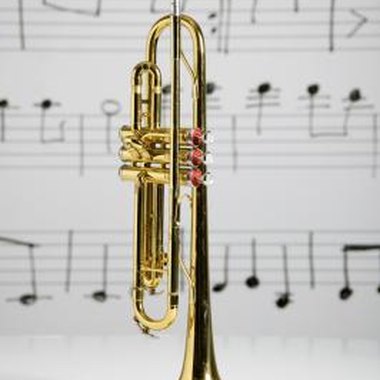 The trumpet is one of the oldest known musical instruments. It's also the instrument with the highest register in the brass family. While there are many varieties of trumpets, they're all generally played in the same way. The player blows into a mouthpiece to create a "buzzing" sound while pressing valves on the body of the instrument to hit different notes. Though it may look like a simple instrument to play, it can take years to perfect. There are various tips and techniques one should abide by to become a trumpeter.
Breathing Techniques
According to accomplished trumpet player Rich Szabo, a key to playing an effective trumpet is proper breathing. Szabo says proper breathing begins in the preparatory period, before playing the trumpet. It starts by relaxing muscles, eliminating any tension and readying your mind to a state in which you're ready to play. He also states that proper attire could be a key to a more effective sounding trumpet. He states that leather belts for men and girdles and brassieres for women often prevent people from breathing normally. He says these articles of clothing should be worn as relaxed as possible to maximize breathing potential.
Tonguing
In trumpet playing, tonguing is a technique in which the trumpeter positions the tongue on the mouthpiece to create different pitches. There are various forms of tonguing, including flutter-tonguing, single-tonguing, double-tonguing and triple-tonguing. According to B Flat Music's Clyde E. Hunt, the best way to master the art of tonguing is to practice it slowly. Practice positioning your tongue in precise parts of the mouthpiece to the get sound you desire. Then, as you get more comfortable, increase the speed.
Beginners
Sooner isn't always better. According to B Flat Music, the best time to begin teaching a child the trumpet is either in the sixth or the seventh grade. This is because their physiological and psychological development makes it easier for them to catch on to playing the instrument. For example, students who begin while in middle school have a shorter learning curve than those who begin during the elementary years. Comparatively speaking, trumpeters who start in the sixth and seventh grades catch up very quickly to those who began learning in the third and fourth grades.
Lip Buzzing
Aside from tonguing, another way to create a different sound is through lip buzzing, which is flapping the lips to create vibrations on the mouthpiece to generate a warm, rich trumpet sound. According to Trumpet Studio, one way to help lip buzzing is by lightly touching the tongue to the back side of your lips. This helps the lips vibrate in a fuller fashion, thereby enabling the trumpeter to play a much more rich buzz.
Photo Credits
Jupiterimages/liquidlibrary/Getty Images