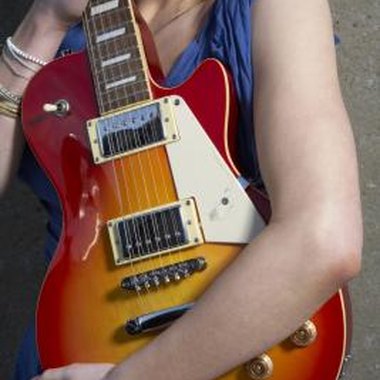 "Smoke On The Water" is a 1971 song by the British rock band Deep Purple. Featuring one of the most iconic and recognizable guitar riffs in rock history, it has been hailed as a hard rock classic. The song's lyrics are based on a true story and were inspired as the band watched the smoke from a burning casino complex drift across the waters of Lake Geneva in Switzerland.
About the Song
"Smoke On The Water" first appeared on Deep Purple's 1971 album "Machine Head." It was released as a single the following year and would become a staple at future Deep Purple concerts. The song's main riff is frequently learned by beginning guitarists and is based on a four-note blues scale melody. The song has been covered many times by bands including Black Sabbath and Metallica. It is one of the playable songs on the Playstation 2 game "Guitar Hero" and is a downloadable track for the Xbox 360 game "Guitar Hero 2."
The Fire at the Montreux Casino
When Deep Purple witnessed the fire at Montreux Casino, the band had traveled to Montreux, Switzerland, to record their sixth studio album "Machine Head." They planned to record the album in an entertainment complex that was part of the Montreux Casino. On December 7, 1971, the day before they were due to start recording, a fire broke out as Frank Zappa and the Mothers of Invention played a concert at the casino. The fire destroyed all the equipment belonging to the Mothers of Invention and left Deep Purple without a place to record. The song's title refers to the sight of smoke drifting across Lake Geneva.
The Aftermath
Following the fire, Deep Purple were forced to search for another venue at which to record the album. They had begun recording the music for "Smoke on the Water" at the local theater, The Pavilion, but were forced to abandon the venue after complaints about the noise. The music to "Smoke on the Water" was recorded at The Pavilion, with the lyrics and vocals being added later. The rest of the album was completed at the Montreux Grand Hotel, which is mentioned in the song.
Specific Lyrical References
The lyrics detail the events surrounding the fire, describing how the band "all came out to Montreux" and "[end] up at the Grand Hotel...making our music there." As the song progresses, various details are mentioned. The line that goes "But some stupid with a flare gun burned the place to the ground" refers to the Frank Zappa fan who allegedly started the fire by firing a flare gun at the ceiling of the casino ballroom. The mention of "Funky Claude" refers to the Montreux Jazz Festival organizer Claude Nobs, who helped lead fans to safety. The "Rolling truck Stones thing" mentioned in the final verse refers to the mobile recording studio Deep Purple had rented from The Rolling Stones for the recording sessions.
Photo Credits
Polka Dot RF/Polka Dot/Getty Images