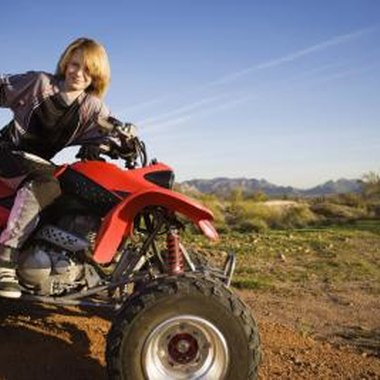 Riding an all terrain vehicle (ATV) takes time and practice to master, requiring the rider to ride often on many different types of terrain. Performing tricks on these large vehicles is both exciting and dangerous, and each trick must be approached in a gradual manner with lots of practice. Before performing the following tricks, be natural and comfortable riding your ATV. Put on the appropriate protective gear and make sure you have a friend to come with you and watch for safety.
Items you will need
Helmet

Protective long-sleeved shirt

Protective long pants

Riding boots

Clear, open, flat terrain
Warm-up
Step

1
Ride your ATV over the terrain where you plan to attempt tricks. Scope out the landscape completely. Note the types of dirt, rocks, branches and other debris you'll encounter. Clear out anything that could cause issues gaining and maintaining smooth speed or landing a jump.
Step

2
Practice maintaining an athletic stance while riding your ATV. Drive at a slow speed and stand with your knees slightly bent. Bounce a little to get your grounding in this stance. Jumping and landing tricks requires stability and this stance.
Step

3
Practice maintaining the athletic stance as you gain speed. Ride straight while accelerating. Hitting and landing small jumps requires speed.
Single Jump
Step

1
Find a small hill with a moderate drop. If you can't find one, build one out of rocks and wet, packed-down dirt. Pile rocks in a small heap, then pile dirt on top so that the rocks are covered completely. Smooth out the jump so that it has a gentle incline and a shallow drop, like motocross jumps.
Step

2
Start at a far enough distance to gain moderate speed before the jump. Ride straight at the jump, crouched in an athletic stance. Stay steady on the gas on your way up the jump.
Step

3
Hold the handlebars tightly. Simultaneously tilt your torso slightly backwards to bring the front of your ATV up. Land on the back wheels of your ATV for a gentle end to your jump.
Donut
Step

1
Ride in a clear space. Make sure there aren't any jumps, bumps, rocks or branches nearby and that the terrain is level.
Step

2
Gain speed. When you're past half throttle, come into the turn and crank the handlebars.
Step

3
Lean inward to maintain balance as you turn. Hold speed throughout the donut and release when it's completed.
Wheelie
Step

1
Ride in a clear, open space. Gain moderate speed riding in a sitting position. Keep your hands on the controls and your feet on the pegs.
Step

2
Approach the base of an efficient speed for your ATV, that is, about half of the total speed capability. Just before it kicks in completely, let off the throttle slightly and tug back on the handlebars and then upward. Experiment with gentler tugs until you find the minimum amount of strength you need to get the handlebars up slowly but consistently. You'll be able to pop them back faster when you get more comfortable.
Step

3
Sit back as you ride on the back wheels. Keep your hands on the controls. Attempt to stand on the pegs when you can ride comfortably in a sitting position. Bail by stepping off and letting go of the power if you feel that you're about to fall backwards and off your ATV.
Tips & Warnings
Wear a helmet, protective clothing made from thick material and boots when riding your ATV. Do not attempt tricks on your ATV until you can ride it normally with great ease. Do not attempt intermediate or advanced tricks without proper training.
Photo Credits
Jupiterimages/Brand X Pictures/Getty Images